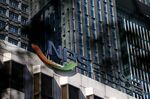 Sentencing the billionaire leader of South Korea's largest and most powerful company, Samsung Electronics Co., to five years in prison for bribery and embezzlement sent a strong signal the country might finally push through long-promised corporate reform.
But if Korea really wants to clean up the overly cozy and sometimes corrupt relationship between the government and large family-owned business groups, known as chaebol, it will have to look inward to its own national pension fund.
Since most workers must contribute to the fund, Korea's retirement war chest has surged to 22 million contributors and 558.3 trillion won ($495 billion) under management last year, from 189.6 trillion won in 2006, making it the world's third-largest after those of Japan and Norway.
With big money comes big influence. The NPS holds shares in 888 of Korea's roughly 2,000 listed companies, including 10 percent of Samsung and 8 percent of Hyundai Motor Co. But instead of using its might to push through corporate governance reforms and help close the valuation gap between Korean companies and those in other countries, it's been used as a tool in an array of political maneuvers.
Case in point: While most of the attention in the bribery scandal centered on impeached President Park Geun-hye and Samsung chief Jay Y. Lee, top officials from the NPS also went to jail or resigned in connection with their role in helping facilitate a controversial merger between two group affiliates. Instead of using its heft to question the merger, which was seen as a way to consolidate Lee's power over Samsung Group, the NPS was pressured to vote in favor of a deal that was good for politicians rather than its beneficiaries.
The beginnings of reform are there: The NPS is considering adopting a stewardship code like Japan, which encourages institutional investors to exercise their voting rights in the best interest of shareholders. But more needs to be done: 
Take the politics out: The NPS structure within the Ministry of Health and Welfare, where officials are appointed by the president, makes it particularly susceptible to the whims of politicians. Its fund management committee, which advises on investments, has historically been made up of former government officials, friends of the ruling party, or businessmen who tend to fall in line under political pressure. 
Go global: The NPS primarily invests in Korean companies. While it's made some progress here, taking the percentage of foreign assets to 15.3 percent in 2016 from 8 percent in 2012, increasing international holdings even more would help professionalize the fund. 
Think small: 71 percent of the fund is invested in large-cap companies. The NPS could use its heft to support the growth of smaller and medium-sized businesses rather than concentrating its money in the biggest, most of them family-owned conglomerates.
Make it a better place to work: The NPS should move its headquarters back to Seoul, where it was based before relocating to Jeonju, a sleepy provincial capital a three-hour drive away. That distance makes it hard to attract top talent. The NPS should also increase pay on a par with other financial firms to attract the skilled professionals it will need to better manage such vast sums.
As long as the all-powerful National Pension Service, the biggest shareholder of the chaebol, neglects its fiduciary duty to keep companies in line, there's little reason to believe the new president's promises that true corporate reform will come to South Korea. As any guru will tell you, real change has to come from within.
Before it's here, it's on the Bloomberg Terminal.
LEARN MORE