Davis Warns of Chaotic Brexit If Lawmakers Block U.K. Bill
By
EU bill set for key vote on Monday, opposed by Labour and SNP

Tory dissenters plan to seek amendments to bill later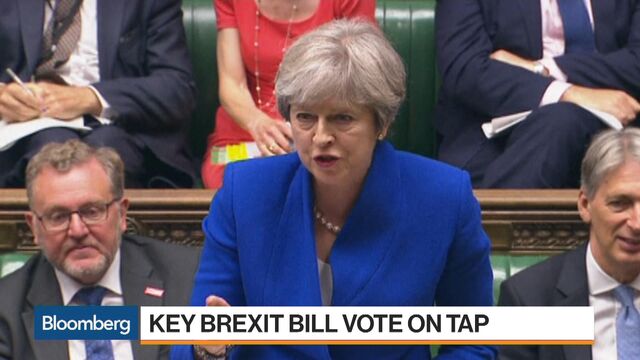 Brexit Secretary David Davis warned U.K. lawmakers that if they block a key piece of domestic legislation on Monday, it may lead to a "chaotic" departure from the European Union.
In a statement ahead of the vote, Davis rejected accusations that the government has launched a power grab with its European Union (Withdrawal) Bill, which seeks to copy EU law and enshrine it in domestic legislation. The draft law contains so-called Henry VIII powers that allow ministers to make changes to existing laws, bypassing normal scrutiny by Parliament.
"A vote against this bill is a vote for a chaotic exit from the European Union," Davis said. "Businesses and individuals need reassurance that there will be no unexpected changes to our laws after exit day and that is exactly what the Repeal Bill provides."  
Prime Minister Theresa May faces a battle to get the flagship piece of Brexit legislation through Parliament unamended. While support from Northern Ireland's Democratic Unionist Party gives her Conservatives a narrow majority in the House of Commons, members of her own party have expressed disquiet at the powers, which they say are open to abuse, regardless of any assurances. Labour, the Scottish National Party and other minor parties say they'll oppose the legislation.
READ MORE: Brexit's Repeal Bill Faces Scrutiny After Summer: QuickTake Q&A
"The closer you look at this bill, the clearer it is that it would result in an unprecedented power-grab by government ministers" allowing them to "change legislation on a whim," Labour Brexit spokesman Keir Starmer wrote in the Sunday Times. "The result is a bill that is an affront to Parliament and the principle of taking back control," he said, a reference to one of the slogans of Brexit campaigners during last year's referendum.
Dominic Raab, a junior justice minister, called Labour's opposition the "biggest con trick" perpetrated by party leader Jeremy Corbyn on the general public. "Come Monday evening I think that the Labour party will have their cards called, because they toured up and down the country saying they were going to back Brexit and now they're voting against this whole bill," Raab told Sky News.
The bill will be put to a vote at the end of its second reading late on Monday. Despite wide opposition, the signs are it'll squeak through. That's because potential Tory rebels including former Chancellor of the Exchequer Ken Clarke, former Education Secretary Nicky Morgan and former Business Minister Anna Soubry have indicated they'll vote for it, while seeking to amend it at its next step, the so-called committee stage.
Labour Rebels
"We've been reassured that they're not going to use these powers in any policy-making way at all,"  Clarke, the only Conservative to vote against triggering Brexit, said on Sunday in a Sky News interview. "Parliament would be sensible to get them to write it so that they're not giving themselves the possibility of using powers that no government's ever tried to take at the expense of Parliament before."
In the first day of debating the bill on Thursday, Soubry suggested a triage system whereby lawmakers would be able to decide which changes needed further scrutiny, something Davis said he would be open to discussing. He estimated there would be 800 to 1,000 such changes, delivered through what are called statutory instruments.
Morgan, another Tory who's been critical of the government approach to Brexit, said on Thursday that "the bill is needed," but that it would have to be amended to pass. And former Attorney General Dominic Grieve, another Conservative, called the draft law a "monstrosity," yet "vital," signaling he'll vote for it on Monday and seek to amend it later. 
To add wind to the government's sails, two Labour lawmakers who supported Brexit, Kate Hoey and Graham Stringer, both spoke in favor of the bill, with Stringer saying he'll defy party orders to vote for it, and Hoey urging other Labour MPs to do so.
Scoring Points
"This bill is too important for political point-scoring," Davis wrote in the Sunday Telegraph. What lawmakers are voting on "is how we leave: whether our withdrawal is smooth and orderly, or chaotic and uncertain."
Once the government has negotiated Monday's vote, attention will turn to another vote scheduled for late Tuesday, in which ministers are seeking to ensure that Conservatives dominate key parliamentary committees that scrutinize draft laws. Labour has called the move another power grab, saying it breaks from the convention that the panels should reflect the makeup of Parliament. 
Defence Secretary Michael Fallon on Sunday argued that the support of Northern Ireland's DUP gave the Tories an overall majority, entitling them to dominate the panels. "It wouldn't be reasonable to have lots of votes in a committee room upstairs that then have to be reversed when you take the bill back downstairs," he told the BBC's "The Andrew Marr Show."
Former Labour Prime Minister Tony Blair resurfaced on Sunday, with his Institute for Global Change publishing proposals that he said would allow Britain to remain in the EU while clamping down on immigration -- a key concern that surfaced during last year's referendum. The proposals include temporary controls in key sectors when there's an influx of immigrants, tightening access to benefits, and restricting free movement for those without a job offer.
"Brexit is a distraction, not a solution to the problems this country faces," Blair told "The Andrew Marr Show." Britain's EU departure is "going to cause real economic and political damage."
The former premier hinted there's room for a new party in British politics if Labour and the Conservatives don't change. "There is a huge amount of political energy out there in the country that is searching for a home," he said. "If the two main parties don't give it a home, it's going to search for a different home."
Before it's here, it's on the Bloomberg Terminal.
LEARN MORE