U.K.'s Hammond Was Frozen Out of Key Decisions
By
New book claims Theresa May's aides didn't trust chancellor

May sensed that her election gamble would backfire, book says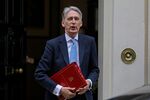 U.K. Prime Minister Theresa May's closest advisers froze out Chancellor Philip Hammond as they drew up their plans for June's election, according to a new book revealing the rift that developed between the two most senior teams in the British government.
May herself raised her eyebrows at the mention of Hammond's name in meetings, while his relations with her chief of staff Nick Timothy were said to have been toxic, according to the book. Hammond was denied access to the manifesto and repeatedly protested to May's team that he didn't get to see the whole document until too late.

Instead, May's aides relied on Hammond's deputy at the time, David Gauke, to check that the party's policies added up, the book says. Hammond also demanded that the Tories release full cost estimates for all their policies -- but was overruled.
The book, which is being serialized in The Mail on Sunday newspaper, describes the series of top-secret meetings that led up to May's fateful decision to call a snap election at a time opinion polls suggested her Conservative Party would pick up seats.
Instead, when British voters went to the polls on June 8, May's Tories lost their majority, casting doubt on the prime minister's viability and complicating her Brexit plans. May now has to run Britain with a minority government, propped up by Northern Ireland's Democratic Unionist Party.
Disastrous Decision
"Betting the House: The Inside Story of the 2017 Election," is written by Bloomberg U.K. Government Reporter Tim Ross and Tom McTague, a British journalist for Politico.
It describes how the man who's now the top U.K. Brexit negotiator played a critical role in the disastrous decision to call the election.
Brexit Secretary David Davis was a key figure arguing that May should call an early election, in order to give her government more time to finalize the U.K.'s withdrawal from the EU in 2019 without the pressure of a national vote a year later, Ross and McTague write. May was nervous about the decision, telling her closest aides she feared the public wouldn't understand, and that the gamble could backfire.
May's advisers now believe the June election, in which her Conservative Party lost its majority, destroyed her standing in the public eye. "In the campaign, we basically just screwed the brand completely -- hers and the party's," Chris Wilkins, May's former director of strategy, says in the book. "We suddenly became the establishment candidate" while opposition Labour leader Jeremy Corbyn ran a populist campaign as "the candidate for change."
Before it's here, it's on the Bloomberg Terminal.
LEARN MORE