Phone Call to Ease Saudi-Qatar Spat Causes New Problem
By and
Qatar, Saudi leaders hold first phone call since crisis began

Saudis said Qatar's statement on the chat was misleading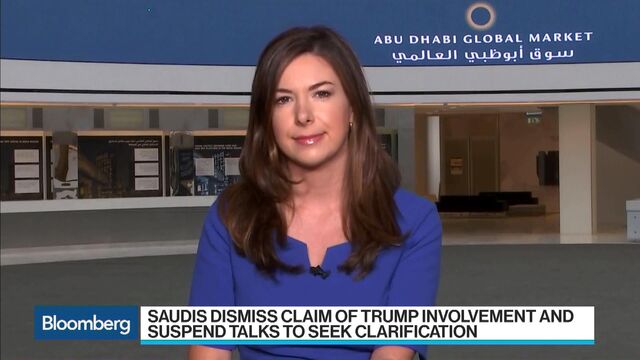 A phone call between leaders of Qatar and Saudi Arabia to help defuse a three-month political impasse ended up causing a fresh spat.
The conversation between Qatari ruler Sheikh Tamim bin Hamad Al Thani and Saudi Crown Prince Mohammed bin Salman was reported by the official news services in both countries early on Saturday. But the two sides couldn't agree on much else.
A statement carried by state-run Saudi Press Agency said Sheikh Tamim initiated the call and "expressed his desire" to discuss the demands of the four countries boycotting Qatar. In its version of events, Qatar said U.S. President Donald Trump helped coordinate the chat -- a claim dismissed by the Saudis, who suspended talks and sought a clarification.
The renewed wrangling underscored the depth of the crisis that broke out in June when Saudi Arabia, the United Arab Emirates, Bahrain and Egypt severed diplomatic and transport links with Qatar, an unprecedented move in the history of the six-nation Gulf Cooperation Council. The Saudi-led bloc accuses Qatar of backing terrorism and has presented Sheikh Tamim with 13 demands that include shutting down Al Jazeera television and scaling back his nation's ties with Iran. Qatar denies the charges and says the boycott is an attempt to undermine its sovereignty.
The weekend call shows "how delicate the positioning of each side is," said Graham Griffiths, an analyst at global risk consultancy Control Risks in Dubai. "The call came very suddenly, which didn't permit the two sides -- and particularly the Saudis and their allies -- to coordinate its framing. The Saudis in particular don't want to appear to be reaching out to Doha."
Qatar's account "shows that it has yet to understand that the kingdom of Saudi Arabia is not ready to tolerate altering agreements and facts," a Saudi official said in the SPA report.
Trump's Calls
Friday's phone call followed a conversation between Sheikh Tamim and Trump. The president also called Saudi Arabia's Prince Mohammed, according to SPA, but it wasn't clear whether he made that call before or after the new dispute erupted.
Trump has stepped up his efforts to resolve the crisis, which pits close U.S. allies against each other. "I do believe we will solve it ," he told a White House news conference with the emir of Kuwait, Sheikh Sabah Al-Ahmed Al-Sabah, on Sept. 7. "If we don't solve it, I will be a mediator right here in the White House" and "we will have something very quickly."
The spat broke out shortly after Trump visited Saudi Arabia in May, where he called for concerted action against terrorism and accused Iran, which has close relations with Qatar, of fueling instability in the region. Trump has urged all parties in the Qatar dispute to find a diplomatic resolution that's in line with commitments made during his Gulf trip.
Before it's here, it's on the Bloomberg Terminal.
LEARN MORE