Merkel Slams Anti-Immigration 'Rowdies' for Disrupting Election
By
German leader says she won't be intimidated on final stretch

Chancellor is front-runner for Sept. 24 national vote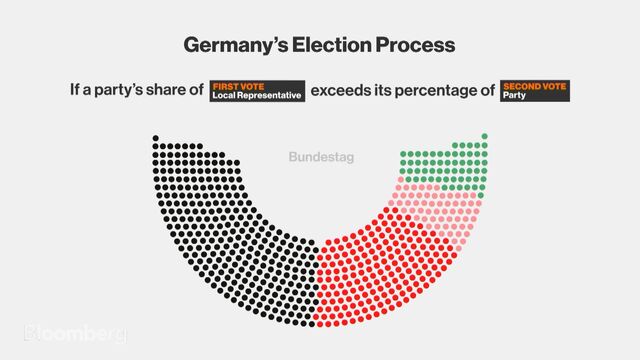 German Chancellor Angela Merkel called anti-immigration demonstrators "rowdies" driven by intolerance, her strongest reaction yet to protests that have disrupted many of her election rallies this summer.
Just over two weeks before the German ballot, Merkel addressed her increasingly aggressive enemies from the Alternative for Germany party, or AfD, and the far-right National Democratic Party, head-on. A day earlier, protesters shouting "get out of here" threw tomatoes at the official car taking her to a rally on the Baltic seacoast.
"A lot of them, usually from the AfD and the NPD, come simply with goal of making it hard for others to listen," Merkel said at an event at her party's campaign headquarters in Berlin on Saturday. "So I hope that the people who come to listen will also have their say, not just those who are rowdies and show up to whistle and shout."
Merkel Sang-Froid, Schulz's Parakeets: German Campaign Week Four
While Merkel's Christian Democratic-led bloc leads challenger Martin Schulz's Social Democrats by as many as 16 percentage points in polls, the small but steady protests underscore the well of discontent over her liberal refugee policy that's shifting Germany's political landscape, even as she seeks a fourth term as chancellor on a platform of stability.

The AfD, which is in contention for third place in the Sept. 24 election, is likely to become the first far-right party to win seats in Germany's parliament since World War II. It wants Germany to leave the euro area and end "unregulated mass immigration," for which it blames Merkel after a record influx of refugees on her watch in 2015. The party is polling as high as 11 percent in surveys of likely voters.
'Very Unpleasant'
Schulz, whose Social Democrats have been Merkel's coalition partner for the past four years, met on Saturday with activists representing immigrants' interests in the city of Wiesbaden, near Frankfurt. To think that tough talk on immigration by mainstream parties will drive voters away from the far right "is a mistake -- it strengthens them," Deutsche Presse-Agentur quoted him as saying.
Although she's the front-runner, Merkel is warning her party against campaign complacency during the final stretch. At a local Christian Democratic Union convention in the southern state of Baden-Wuerttemberg, she renewed her attack on the Social Democrats for declining to rule out the anti-capitalist Left party as a coalition partner. The CDU means stability and "no experiments," she told delegates.
In German Rust Belt, Anti-Merkel Populists Campaign for Her Exit

Merkel was grazed by a tomato thrown from the audience at a campaign rally in Heidelberg on Tuesday. She appeared unfazed and pushed ahead with her speech as demonstrators jeered, blew ear-splitting whistles and called Merkel a liar and a traitor to her people.
"It's very unpleasant," she said Saturday, referring to the repeated disruptions on the campaign trail. "And still I'm of the opinion that we politicians, including me, have to go to places where people are showing courage and standing up to it. Politicians have to show the flag."
Before it's here, it's on the Bloomberg Terminal.
LEARN MORE