Darling Warns Poor Handling of Brexit Risks Another Lost Decade
By
Ex-chancellor says leaders must explain trade-offs to voters

He says credit crunch anger paved the way for Brexit vote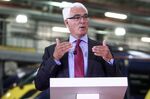 Britain faces another decade of weak growth and political turmoil unless politicians show leadership on Brexit, former chancellor of the exchequer Alistair Darling said.
In a BBC interview to mark 10 years since the collapse of Northern Rock -- the first U.K. bank to see a run on its deposits in more than a century -- Darling said the credit crunch and the austerity politics that followed had "paved the way for Brexit."
"We live in a much darker world, more inclined to protectionism and nationalism, and so the political fallout has been absolutely immense," Darling told Radio 4's Westminster Hour, according to a partial advance transcript. The full interview will be broadcast at 10 p.m. on Sunday. "And we're not through it yet. It became an economic crisis and then a deeply political crisis which we're living through, and I think politicians across the world are struggling to deal with it."
Leaders in the U.K. and across the rest of the European Union need to raise their game in Brexit discussions and reach a mature agreement, he said. "It's time we had a grown-up conversation at home, where we say to people, 'look, we're going to have to make compromises,' and say to Europe, 'we don't like it, you don't like it, but we need a new relationship,'" Darling said. Otherwise, he warned, "we're going to write off another decade, and that would be a tragedy."
In the same interview, Nicholas Macpherson, who as permanent secretary to the Treasury during the financial crisis was Darling's most senior official, agreed with his former boss. "I feel passionately that this is an area which needs leadership," he said. "Someone's got to have a grown up conversation with the British people about the compromises and trade-offs which have to be made. And sadly, that simply hasn't happened."
Darling was chancellor from June 2007 through May 2010 in the Labour Government led by Prime Minister Gordon Brown.
Before it's here, it's on the Bloomberg Terminal.
LEARN MORE