Tampa, an Emerging Finance Hub, Sits in Irma's Path
By , , and
Citigroup has 5,400 workers in Tampa and a 92-acre campus

JPMorgan, MetLife also have operations in the Tampa area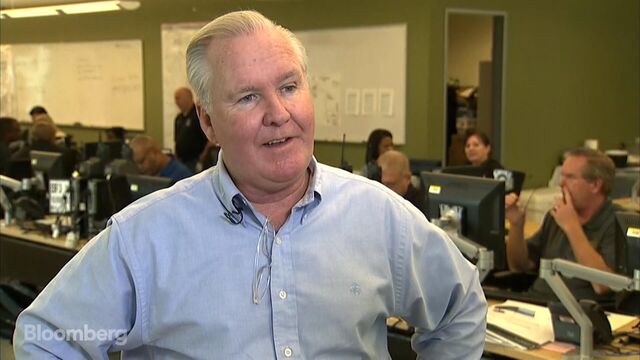 Everyone thinks of downtown Miami as Florida's Wall Street, but Tampa has grown into a major financial center in its own right. Now, there's a chance that it may bear the brunt of the ferocious hurricane barreling toward the peninsula.
Hurricane Irma shifted track Saturday, elevating the risk of severe damage in Tampa, a city that's grown rapidly as high-paying jobs moved to the region. Some 6.3 million Floridians are now under mandatory or voluntary evacuation orders, and although residents of Miami-Dade, Broward and Palm Beach counties on the east coast have been preparing for days, those on the opposite side of the state just woke up to the new forecast.
Over the past two decades, tens of thousands of finance industry jobs were created around Tampa, including positions in accounting, legal and human resources. Citigroup Inc. alone operates a 92-acre (37 hectare) campus there and employs around 5,400 workers, close to half its 14,000-person Florida staff. Tampa-area finance and insurance jobs have grown 14 percent in the past five years to 81,700, according to the Tampa Hillsborough Economic Development Corp. As a group, that puts it in the top five among non-government industries.
The storm has everyone on alert, said Craig Richard, the Tampa economic development group's chief executive, who lives outside the evacuation zone and was staying put. "I'm confident we can recover quickly and continue to grow the financial services sector," he said.
Office Space
"Structurally, I think they're going to be fine," Mayor Bob Buckhorn of Tampa said Saturday in a Bloomberg Television interview. But it's just a question of "getting their employees back in here to do what they need to do."
For many financial institutions -- also including JPMorgan Chase & Co. and MetLife Inc. -- Tampa offered a location in a convenient time zone with office space available at a fraction of New York's, part of a strategy sometimes called nearshoring. In the recent past, at least some of those jobs ended up in countries such as India.
JPMorgan Chase, which has around 5,000 workers in the Tampa area, said all Florida offices and branches will be closed Monday. Spokesman Michael Fusco said the bank's Tampa employees are mostly at four locations supporting corporate and investment banking, auto finance, card services, and other businesses. He said the sites closed Friday afternoon. Work is being handled at other locations throughout the U.S.
Depository Trust & Clearing Corp., an organization that settles U.S. securities trades, also has a major operation in Tampa.
'Hardened Structures'
"Citi, JPMorgan, DTCC -- fortunately they are largely outside of the flood zone," said Buckhorn, the Tampa mayor. "They're in hardened structures."
Citigroup's Sabal Park campus, where most Tampa employees work, will be closed Monday, according to spokeswoman Elizabeth Kelly. Insurance company MetLife has around 1,500 employees in sales and back office jobs in the region, including at a campus in Tampa, according to Kim Friedman, a spokeswoman.
To be sure, the Tampa-St. Petersburg area isn't just a nearshoring region. Raymond James Financial Inc. has its headquarters in St. Petersburg, with 4,200 people. It will be closed through Tuesday.
Some financial institutions expanded into Tampa as a risk management strategy to spread out exposure in the wake of the Sept. 11, 2001, terrorist attacks on New York and Washington. They now, instead, face a catastrophic natural disaster on their doorstep.
— With assistance by Sho Chandra, and Michael Smith
Before it's here, it's on the Bloomberg Terminal.
LEARN MORE