charted
What's Your Car Worth?
Glut of recent off-lease cars has pushed down the value of newer vehicles in the U.S.
By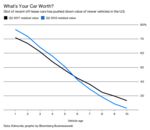 The value of a new car drops the second it's driven off the lot, "and that's more true than ever right now," according to Ivan Drury, senior manager of industry analysis at car-shopping website Edmunds. With a glut of fairly young used cars flooding the market as leases end, U.S. vehicles are retaining just 70.9 percent of their value after a year of use, down from 76.6 percent five years ago. At the same time, older used cars are holding their worth better, Drury said, since there are fewer decade-old trade-ins on the road because of slower car sales during the Great Recession.
Before it's here, it's on the Bloomberg Terminal.
LEARN MORE