Tax Overhaul May Be Less Ambitious Than GOP Planned, Walker Says
By
GOP can pass tax bill this year, conservative lawmaker says

Treasury Secretary criticized for ignoring conservatives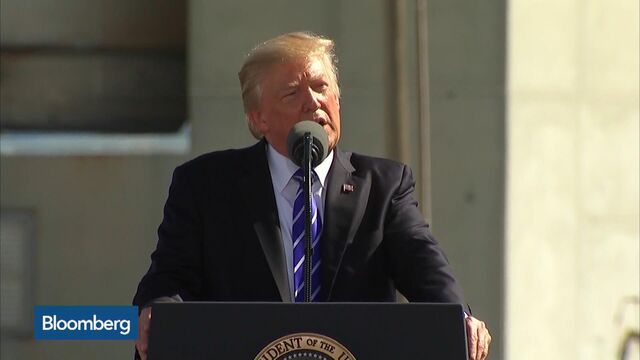 President Donald Trump will sign a tax bill this year, but the legislation may not be as ambitious as GOP leaders had originally hoped, according to Representative Mark Walker, chairman of a large conservative caucus.
The plan will be more than just rate cuts, according to Walker, which means it could still include some structural changes, such as those that would deter offshore profit shifting by corporations.
"I think it will be reform -- it may not be exactly what we wanted starting out this year," North Carolina's Walker said during a C-Span Newsmakers interview that will air on Sunday. "I think that will be subjective as to who is interpreting what level of overhauling may happen, but I am confident and I've said, even weeks ago, that I expect that to happen before Thanksgiving."
While the Trump administration is facing backlash from conservative Republicans over a hurricane relief bill that includes a short-term extension of the federal debt limit, Walker's comments show that he is still relatively optimistic about the timing of a tax bill. The debate over whether tax legislation will consist of tax cuts that expire, a lasting revamp of the tax code, or a combination of the two, has dominated Washington.
Republicans, who control only 52 seats in the Senate, plan to use congressional budget rules that allow for approving a tax bill with a simple majority. But those rules also require tax cuts to be offset so they don't add to the long-term budget deficit. Changes that increase the deficit would have to expire over time.
'Poor Grade'
The GOP is turning its attention to taxes after the House passed the hurricane relief bill that included a stopgap measure to fund the government and temporarily suspend the debt limit. It was approved with support from Democrats, and Walker was one of the 90 GOP members that voted against it.
Trump's decision to side with Democrats for this short-term solution, along with the Senate's earlier failure to pass the House's bill to repeal and replace Obamacare, has left the majority party grasping for a signature accomplishment after nine months of unified government. Many GOP lawmakers have said they're worried that reaching the end of the year without getting a tax bill signed into law could cost them in next year's midterm election.
"We do have to have some wins really quickly because over the the next two to three months I believe the grade will come for the 115th congress," Walker said. "If we have nothing to show for it, I believe it will be a very poor grade."
Walker said he applauds the work of Representative Kevin Brady of Texas, chairman of the tax-writing Ways and Means Committee for keeping his "diligent" focus on tax policy, even with all the political furor this year.
"The framework is there," Walker said. "Filling in a few gaps, I think it's certainly reasonable to believe we could get this done by mid-November."
'Stronger Vision'
The so-called Big Six -- made up of White House officials and congressional leaders involved in tax negotiations -- jointly released a two-page statement in July that outlined a broad set of agreed-upon tax principles. Specifics, including such basic matters as where to set the corporate tax rate and how to set up individual tax brackets, have yet to emerge.
Walker, who chairs the Republican Study Committee of about 150 members, was less complimentary of Treasury Secretary Steven Mnuchin -- a member of the Big Six. Mnuchin alienated some conservatives during his argument for a debt limit increase by not taking seriously their demands for policies to address the deficit.
"We're going to need to see a stronger vision from him when it comes to tax reform as opposed to just the two or three talking points," Walker said. "I'm not saying he's not the person for the job, but he needs to do a stronger job than what he's done on the debt ceiling."
House Speaker Paul Ryan of Wisconsin is "the best policy person in the House," Walker said, but he and all Republicans need to be more "demonstrative in our position."
"We've got to hold our positions, not just from a visionary stand point, but the action steps and execution that creates the opportunity to be able to accomplish those goals," Walker said. "That's where I see us going this fall."
Before it's here, it's on the Bloomberg Terminal.
LEARN MORE