South Africa's Ruling ANC to Swear in Dlamini-Zuma as Lawmaker
By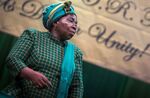 South Africa's ruling African National Congress will swear in former African Union Chairperson Nkosazana Dlamini-Zuma as a lawmaker, according to the party.
Dlamini-Zuma, 68, will fill a vacancy that was left by a resignation last week, Nonceba Mhlauli, a spokeswoman for the ANC's parliamentary caucus, said by text message on Friday.
Seen as President Jacob Zuma's preferred choice to succeed him as leader of the ANC in December, Dlamini Zuma has received backing from the party's women's league, part of its youth league and the premiers of some rural provinces. Her main rival is Deputy President Cyril Ramaphosa.
Before it's here, it's on the Bloomberg Terminal.
LEARN MORE