Here's What Happened in Week Four of the German Election Campaign
By and
Polls suggest SPD leader Schulz's challenge may be fading

German media say Schulz just too nice to make breakthrough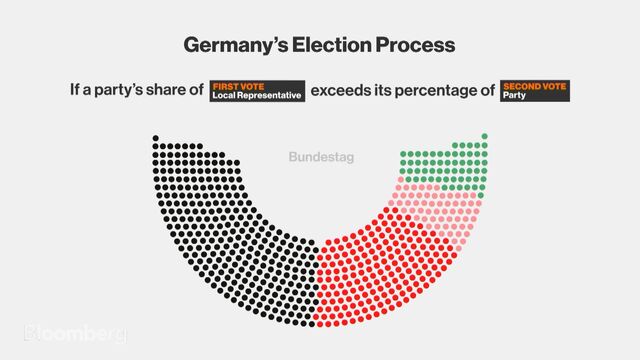 Another week of campaigning, another round of Merkel rallies jeered by anti-immigration protesters.
Loud demonstrations by Alternative for Germany supporters against the chancellor's refugee policy have become a feature of this election. But so has Angela Merkel's cool response.
In German Rust Belt, Anti-Merkel Populists Campaign for Her Exit

In Torgau, where U.S. and Soviet troops met on a bridge over the River Elbe at the end of World War II, she dismissed the whistlers and hecklers and focused on her main Social Democratic Party opponent, even while barely audible above the din. In Heidelberg, she was hit by a ripe tomato but didn't bother to change her jacket; it was red, after all.
Merkel's sang-froid has so far helped her through the difficult spots. But then, this is a chancellor who has faced worse: she was likened to a Nazi during the debt crisis, and her image burned in effigy across southern Europe.
Asked at a campaign event in Stuttgart what her greatest strength is, she said that "in decisive moments I can remain calm -- and that calm is a strength." 
Read Next: A Guide to Germany's Possible Coalitions
Schulz-of-the-People
In the week after Martin Schulz failed to land a blow in the campaign's one-and-only televised debate, the Social Democratic leader's fading chances to wrest the chancellery from Merkel were laid bare in the polls. Schulz came across to an audience of over 20 million as too accommodating, often supporting the chancellor on certain points -- and thanking moderators for their questions. A cartoon in the Frankfurter Allgemeine Zeitung showed Merkel and Schulz sitting side-by-side on a park bench in the moonlight. "Your performance was great, Martin," ran the caption. "Yours too, Angela."

As if to compensate, Schulz appeared a day later at a Bavarian beer-tent rally to make the animated man-of-the-people pitch that he failed to produce against Merkel. He reminded the crowd that he has no advanced high-school diploma -- and ticked off a list of criticisms levied against him, including his bald pate and choice of attire.
"The best answer to the question, can somebody with a beard, bald head, standard frames and clothes off the rack, and without a diploma, become chancellor -- on Sept. 24 we can give an answer: Yes he can!" Schulz cried.
Coalition Calculus
The polls stubbornly refuse to give Schulz any sign of an SPD victory, showing the only way back to power as another stint as junior coalition partner to Merkel's bloc. For Merkel, the only other sure route to secure sufficient seats for a majority would be a tie-up with two traditionally incompatible parties, the business-friendly Free Democrats and the Greens. It's a coalition already being tried in the northern state of Schleswig-Holstein, an experiment that the region's premier says the chancellor is keeping close tabs on.
What Works for This Small Northern State May Make German History
Pollster Forsa's chief political analyst, Peter Matuschek, told Bloomberg TV that such an exotic constellation could be coming to Berlin too. "If the numbers in the election open this possibility, there is a good chance that we will have this type of coalition," he said.

Never Give Up
This was the week that German media began to write Schulz off. The FAZ, as Germany's newspaper of record is known, listed five reasons why his campaign was failing to break through. These ranged from over-inflated expectations from a Social Democratic Party that was in the doldrums long before he took over the leadership, through the lack of a desire for change as Germany experienced after 16 years of Helmut Kohl in the chancellery, to the fact that Schulz is simply too nice a guy.
Polls show that Merkel trumps Schulz in all competencies apart from being "close to the people" and their cares. Some of that affability came across in a live interview on Google's YouTube platform in which he detailed youthful misdemeanors including climbing the fence of a public swimming pool after a wild night out, dumping detergent in the water and getting away before the police arrived. And, wait for it, he once kept parakeets.
Schulz also spoke about the lessons learned in his battle with alcoholism as a young man, and the reasons it gave him to keep fighting: "I know life at the top and at the very bottom," he said, "and I've learned that you must never give up."
Before it's here, it's on the Bloomberg Terminal.
LEARN MORE