Goldman Sachs Says These Ten Brexit Events Moved U.K. Assets the Most
By
10 Brexit-related events account for 50 percent of pound moves

'Difficult' talks to keep BOE cautious, on hold through 2018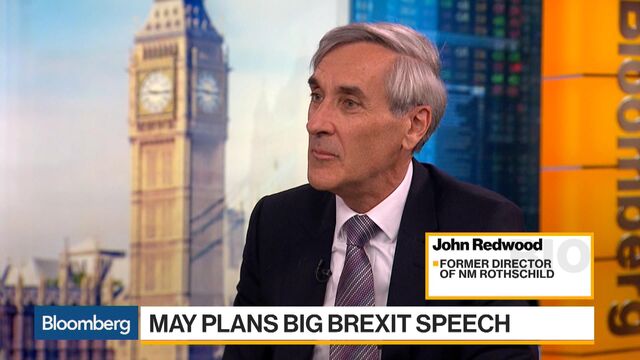 When it comes to trading sterling and U.K. assets, Brexit matters more than the Bank of England, according to Goldman Sachs Group Inc.
The investment bank looked at the impact of monetary policy, macro-economic surprises and political announcements related to exiting the European Union, and found British assets most sensitive to Theresa May et al. Just 10 political news events linked to Brexit account for about 50 percent of moves in the pound and 35 percent in two-year swap rates since the vote, strategists found.

"The market response to Brexit-related political news depends on how the announcement affects the economic outlook," the team led by Andrew Benito in London wrote in a note to clients. It goes beyond expectations for "soft" or "hard" Brexit, they said. Also key is whether Brexit's impact extends beyond the exchange rate to domestic demand or foreign investor confidence.
The longer negotiations over the split go on, the more important gauging the impact of Brexit politics on U.K. markets looks like being for investors. Talks have plodded forward over the summer, with the EU's lead negotiator highlighting the depth of the division between the two sides this week.
Pound Struggle
The note also comes as the Bank of England's Monetary Policy Committee prepares to meet next week. Goldman's base case is for the central bank to leave interest rates on hold until the last quarter of 2018 even while the pound continues to depreciate.
The currency gained each day this week against the dollar, but it's still down against most Group-of-10 currencies in the past month. And since the June 23 referendum last year, it's weakened 11 percent versus the dollar, the worst performer among 16 major currencies.
"In the context of politically difficult Brexit negotiations and general sterling weakness, this caution tilts BoE communications in a mildly hawkish direction around our modal view that bank rate is kept on hold" through next year, the strategists wrote.
Before it's here, it's on the Bloomberg Terminal.
LEARN MORE