Pierre Berge, Who Guided Yves Saint Laurent to Fame, Dies at 86
By and
Businessman was AIDS activist, defender of gay marriage

Millionaire was also part owner of Le Monde, L'Obs magazine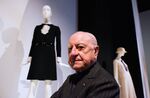 Pierre Berge, the businessman who turned Yves Saint Laurent into one of the world's most acclaimed fashion designers and later became a well-known media and cultural figure in France, has died. He was 86.
Berge died in his sleep Friday at his home in Saint-Remy-de-Provence in the south of France after a long illness, according to his charitable foundation.
Berge's imprint on the French fashion landscape lasted more than 60 years. His business acumen propelled Saint Laurent onto the Paris scene in 1961, helping build an haute-couture and pret-a-porter house that was later sold for more than $1.6 billion. Berge's personal fortune was estimated at 180 million euros ($217 million) in 2016, according to Challenges magazine.
"For 50 years, I was there, by your side, alert, attentive, and I am well aware that your life and your work would not have been the same had we not met," Berge wrote in a letter to Saint Laurent after the designer's death.
Berge was also an agent of social change and a mainstay of French culture, heading the Opera de Paris under Francois Mitterrand's Socialist government. Outspokenly gay, Berge became an activist in the fight against AIDS, defended same-sex marriage and owned Tetu, a gay magazine.
A lover of rare books and fine art, he sold most of his and Saint Laurent's art collection after the couturier's death in 2008. The 2009 auction was dubbed "the sale of the century," generating more than 370 million euros. Most of the proceeds went to the foundation he created and to AIDS research.
'Champagne Socialist'
Berge had varied business interests. He owned a stake in the newspaper Le Monde, set up auction house Pierre Berge & Associes, acquired the caviar business Prunier and owned the Athenee theater in Paris from 1977 until 1982. Sometimes described in the media as a "champagne socialist," he would pilot his own helicopters to reach his estates around France.
His political affiliations fluctuated. Berge became a supporter of Francois Mitterrand, backing the Socialist president for his second term from 1988, after having supported centrist opponent Valery Giscard d'Estaing in 1981. He also backed conservative Jacques Chirac and socialist Segolene Royal in separate elections.
This year he was among the French executives who backed Emmanuel Macron for the presidency.
"Large companies are reassured by Macron, they know that he comes from finance and understands the economic problems France is facing," Berge said in April. "But he also sees that one of our country's biggest problems is the abandonment of small and mid-size companies. I hope he will give them a signal very fast. I hope he will lower the charges, so that small companies can afford to hire people."
'Sharp Words'
Macron, in a statement Friday, said: "It's a whole chunk of our literary and artistic heritage that disappears with Pierre Berge. In none of his fights was he soft on his enemies. His sharp words, sometimes criticized, were the demonstration of his deep engagement."
A regular presence on TV talk shows, Berge also took to Twitter to voice his opinion on matters ranging from the arts to politics, gaining almost 38,000 followers on the social network.
"Everybody in this country wants to know what Pierre Berge thinks considering his status in France's political and cultural life," Catherine Pegard, a former adviser to President Nicolas Sarkozy, told journalist Beatrice Peyrani in her 2011 biography "Pierre Berge, the Star Enabler."
Pierre Vital Georges Berge was born on Nov. 14, 1930, on the Ile d'Oleron, a French island in the Atlantic Ocean. His father was a tax inspector and his mother a teacher. Berge spent his childhood in the west-coast harbor city of La Rochelle and as a teenager had an interest in art and literature, striking up a pen-pal friendship with novelist Jean Giono at age 14.
Rare Books
At 18, Berge went to Paris and started selling rare books in their original editions. In 1949, he co-founded the newspaper La Patrie Mondiale with Garry Davis, a peace activist who advocated world citizenship.
Berge then met Bernard Buffet, a 22-year-old artist whose career he managed for eight years. They had a relationship until 1958, when Berge met Saint Laurent, then creative director at Christian Dior. The two became life companions and started their own fashion house in 1961 with the help of J. Mack Robinson, a wealthy American from Atlanta. Berge would manage it until 2002.
In the 1960s, the company started selling perfumes and launched the ready-to-wear brand Rive Gauche, as well as a line of menswear. The fashion company expanded mostly through licenses in the 1970s.
In 1976, Berge and Saint Laurent ended their personal relationship while remaining business partners.
"Supporting Yves is a full-time job," Berge said in a New York Times interview in 2000. "As I have said many times, Yves was born with a nervous breakdown."
Saint Laurent battled depression, ill health and drugs throughout his career, allowing Berge to run the business after their split. He took 10 percent of the company public in 1989.
Berge was then charged with insider trading for selling Yves Saint Laurent shares prior to releasing worse-than-expected earnings in 1992. He was found guilty and fined, though the case was later dropped.
Company Sale
In 1993, Berge engineered the sale of the company to Elf Sanofi, a pharmaceutical group, for $636 million. In 1999, Gucci group agreed to buy Sanofi Beaute to gain the Yves Saint Laurent brand for $1 billion.
"Pierre Berge is a man who never abdicates, constantly rising like a phoenix from his ashes," Peyrani, the biographer, said in a telephone interview in April 2014. "No project is too big for him, he has an unquenchable thirst to make the most of every single minute of his life."
Paris Opera
While Berge headed the Opera de Paris from 1988 until 1994, he became a close friend of Mitterrand, who shared an interest in philosophy, arts and rare books. Berge even wrote a book about the former head of state, "Inventaire Mitterrand" (2001). Mitterrand made Berge a Commandeur de la Legion d'Honneur, one of France's most prestigious awards, in 1993.
"I saw you at work, and I appreciated the way everything was dealt with, an opera whose shows are now almost constantly sold out, with an enthusiastic public," Mitterrand said when conferring the honor. "It shows that this desire wasn't satisfied previously, it shows it needed that little extra."
In 2010, Berge joined billionaire Xavier Niel and Lazard banker Mathieu Pigasse in taking control of Le Monde. The trio also bought a 65 percent stake in Le Nouvel Observateur, now L'Obs magazine, in 2014. In his last years, Berge dedicated part of his time to the Pierre Berge-Yves Saint Laurent foundation, which supports cultural activities.
Before it's here, it's on the Bloomberg Terminal.
LEARN MORE