At Miami Construction Sites, Cleanup Begins Before Irma Hits
By
Lumber bundled, cranes lowered in expectation of monster winds

Building boom in South Florida leaves many projects vulnerable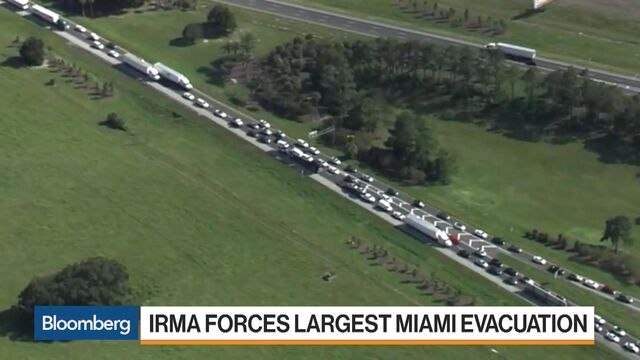 At Dan Whiteman's Miami construction firm, no one's been building anything all week. Since Tuesday, employees at Coastal Construction Group have been lowering cranes, bundling lumber and ladders, and hauling piles of toilets and bathtubs to higher ground, in effort to secure worksites ahead of Hurricane Irma's expected landfall this weekend.
Coastal's protocol is to start preparing at least four days before a storm, allowing enough time for its own workers to evacuate the area.

"If people today think there's still plenty of time, no, there is no more time," Whiteman, Coastal's vice chairman, said in an interview late Thursday. He sent most of his employees home by 5 p.m. the day before.
Irma's collision with southern Florida is all but certain, with the Category 4 storm -- packing winds as high as 155 miles (249 kilometers) an hour -- projected to strike early Sunday. About 8.5 million residential and commercial properties in the state face "significant risk" of wind damage, according to an analysis by CoreLogic Inc. Construction sites, filled with temporary structures, debris and skeletal buildings exposed to the elements, are especially vulnerable, according to a checklist that trade group Associated Builders and Contractors Inc. posted to its Florida chapter's Facebook site.
A building boom in the area means there's a lot that needs to be secured. There are 102 condo towers, with a combined 11,899 apartments, under construction in South Florida, according to a Sept. 5 report by CraneSpotters.com. The tally of projects is higher once rental towers and commercial buildings are factored in.

"There has never been as much work under construction that will be impacted by a storm of this magnitude," Peter Dyga, president of Associated Builders and Contractors' Florida East Coast Chapter, said in an email. "We have a much better wind-load building code today, with stronger buildings, but we have more people, more property and one of the strongest storms taking direct aim at one of the largest metro areas in the country."
Coastal Construction has $1 billion of ongoing projects in the Miami area, such as Miami Worldcenter and Armani Casa, a luxury-condo tower rising in Sunny Isles Beach, Whiteman said. The work this week wasn't just about protecting those unfinished assets, but making sure the heavy materials generally strewn about construction sites wouldn't become projectiles.
Heavy Bundles
When they reported to work Tuesday, Whiteman's crews began gathering ladders, windows, doors, lumber and metal studs into bundles heavy enough to resist the wind gusts. Toilets and bathtubs -- normally stored on the ground floor of a project until they're ready for installation -- were moved at least two floors up to be above the expected storm surge.
Coastal has 12 cranes active in the Miami-Dade area -- and those were the least of Whiteman's concerns, he said.
"They're designed to weather vane, they're not solid," he said. "Whichever way the wind is blowing, they'll rotate that way."
Still, Coastal lowered its four highest cranes. Two mobile cranes, which perch atop a vehicle and don't rotate, were removed and laid flat on the ground. Also taken down were hoists -- the external elevators that workers use to go between floors -- and any dangling cables, which can "lash at the building like a bullwhip if they're left in place," Whiteman said.
Now that that's done, Whiteman is shuttering the windows to his own home, and hunkering down to ride out the storm.
Before it's here, it's on the Bloomberg Terminal.
LEARN MORE