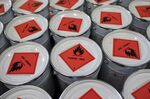 It's basic advice in corporate finance. Once a company fends off an unwanted bidder, it should follow up with a raft of surprisingly good news to show it can get its act together after a close brush with fate.
And then there's Akzo Nobel NV. Months after seeing off PPG Industries Inc.'s $29 billion approach, the paintmaker on Friday cut its profit target for 2017.
The disclosure heaps pressure on new CEO Thierry Vanlancker to create more certainty around what Akzo can achieve next year and beyond.

Akzo is going through a challenging time. The profit warning reflects the lag in how the company can pass on raw material inflation to customers, as well as operational and supply chain disruptions, some of them due to Hurricane Harvey.
There is also further management upheaval. The CFO has taken leave of absence for health reasons, and will return in a different role. A permanent successor is yet to be appointed. That follows the departure of the former CEO in July, also for health reasons. On top of all this, Vanlancker is revamping the company's structure.
Amid so much disruption, the company is sticking with the most critical part of its investment story: the financial targets for 2020 it set out in April in its defense against PPG. These include achieving a 15 percent return on sales.
Maybe Vanlancker feels he can't drop the goals yet -- he was part of the team that developed them.

Investors were already struggling to believe in Akzo's now-abandoned pledge to lift operating profit by 100 million euros year, as well as the 2020 targets. Confirmation they were right about this year reinforces doubts about the latter.
How can Vanlancker turn doubt into confidence? He needs a revised strategy that relies on Akzo action rather than global growth to drag the company out of the mire. That means finding more savings. Vanlancker is confident he can pass on cost inflation to customers, and reckons the new organizational structure will deliver some efficiencies. There are other options, too -- more aggressive M&A could boost returns by stripping out costs from overlapping businesses.
The challenge will be to deliver results fast enough. But Vanlancker has some time on his side. PPG can't return with a bid until the end of the year and, even then, the political climate toward such a move is likely to be hostile. A peace deal with activist Elliott Advisors provides some breathing space. In the meantime, progress with the planned separation of the specialty chemicals business will provide a near-term fillip.
Vanlancker still needs to demonstrate how he thinks he can hit the 2020 targets. If he can, he might just be able to defend a future bid on the company's merits without the need to rely on Dutch protectionism.
Before it's here, it's on the Bloomberg Terminal.
LEARN MORE