Your Evening Briefing
Here are today's top stories
Bloomberg News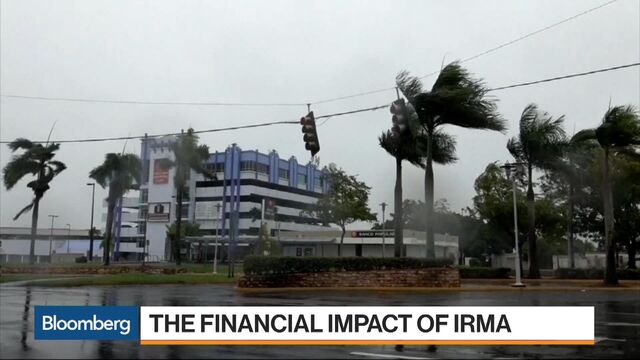 Want to receive this post in your inbox every afternoon? Sign up here.
Hurricane Irma is headed straight for Miami, after weaving a destructive path through the Caribbean. Current modeling shows the Category 5 storm may head out to sea after making landfall on the U.S. mainland over the weekend, and then hit again near Georgia and the Carolinas. Irma, a meteorological monster, is threatening to become the most expensive storm in the nation's history. And it's not the only hurricane churning in the Atlantic.—Katie Robertson
How Irma became Irma. The first seed for Irma's monster size and force was planted on the other side of the world more than six months ago. A widely anticipated El Nino failed to materialize over the Pacific Ocean. In time, that cleared a path for a hurricane to form in the Atlantic that grew to the size of New York, with winds topping 185 miles per hour.
The White House is considering at least six candidates to be the next Federal Reserve head, including economists, executives with banking experience, and other business people. The breadth of the search goes against the narrative that has taken hold in Washington and on Wall Street that the Fed chair nomination is a two-horse race between National Economic Council Director Gary Cohn and current Fed Chair Janet Yellen, whose term expires in February.
Amazon is choosing a spot for its second North American headquarters. The tech giant is on the hunt for a city to house the site, dubbed HQ2. It will probably cost more than $5 billion, take up to two decades to develop and employ 50,000 people. Cities from Toronto to Austin will be vying for Amazon's attention.
Trump says there are "a lot of good reasons" to get rid of the U.S. debt ceiling. Senate Democrats met with the president on Wednesday to explore a possible deal to end the recurring fiscal standoffs. Eliminating the debt limit altogether would be very difficult for many Republicans to swallow, as conservatives have used it as a tool to control spending.
Bannon says Cohn should resign if he can't stand by Trump. In excerpts of an interview to air Sunday, the president's former chief strategist Steve Bannon said White House economic adviser Gary Cohn, who was critical of Trump's message after the deadly aftermath of racially charged protests in Virginia, "absolutely" had an obligation to resign. Bannon also accused the Catholic Church of promoting illegal immigration to fill pews.
Car dealers are rushing to ship vehicles to Houston after Harvey. With the storm's potential damage of 1 million vehicles in Houston, states near and far are scrambling to acquire and ship new ones into the city. For many in Texas, going without a car entirely isn't really an option, and dealers are betting on voracious consumer demand.
This startup is making virtual people who look and act impossibly real. Computer scientist Mark Sagar made a baby in his lab. Now it plays the piano. Sagar, an AI genius who has built out his virtual BabyX from a laughing, crying head, sees a symbiotic relationship between humans and machines.

Before it's here, it's on the Bloomberg Terminal.
LEARN MORE