Trump Offers to Mediate Crisis Between Qatar and Gulf States
By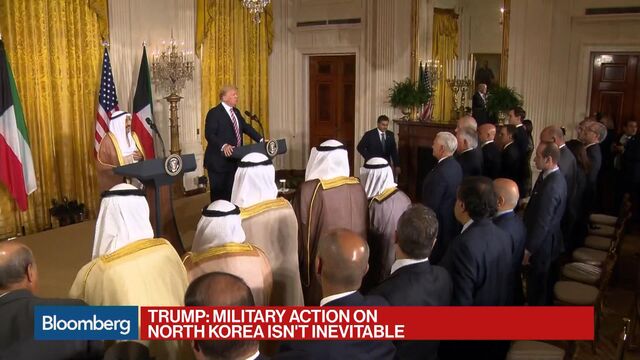 President Donald Trump said he would be willing to serve as a mediator between Qatar and a Saudi-led Arab coalition and predicted the two sides could reach a deal "very quickly."
A Saudi-led alliance of Gulf states cut transport, economic and diplomatic ties with Qatar in June, accusing the country of funding extremism -- a charge vehemently denied by the government in Doha -- and being too close to Saudi's chief regional rival, Iran. There have been few signs of progress in bridging differences since then.
"I do believe we will solve it ," Trump said today in a White House news conference with the emir of Kuwait, Shiekh Sabah Al-Ahmed Al-Sabah. "If we don't solve it, I will be a mediator right here in the White House" and "we will have something very quickly."
But, Trump added, he was determined to end "certain countries" complicity in "massive funding of terrorism."
"We are going to stop the funding of terrorism, and if they are not going to stop the funding of terrorism, I don't want them to come together," Trump said.
The Kuwaiti emir said he is "optimistic a solution will come in the very near future, God willing."
The spat broke out shortly after Trump visited Saudi Arabia in May, where he called for concerted action against terrorism and accused Iran, which has close relations with Qatar, of fueling instability in the region. Trump has urged all parties in the Qatar dispute to find a diplomatic resolution that in line with commitments made between the Arab leaders and Trump during his visit.
But as the dispute has continued, Qatar has shown signs of moving closer to Iran. Qatar said last month it will return its ambassador to Iran and seek stronger relations with its Persian neighbor, further complicating relations in the region.
Before it's here, it's on the Bloomberg Terminal.
LEARN MORE