Pakistan Agency to File Criminal Charge Against Ex-PM Sharif
By
NAB also to file charges against Finance Minister Ishaq Dar

Sharif was barred from office in July by the Supreme Court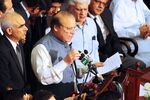 Pakistan's national anti-corruption agency will file criminal charges against former Prime Minister Nawaz Sharif and Finance Minister Ishaq Dar after a probe into their finances.
Nawazish Ali Asim, a spokesman for the National Accountability Bureau, in a text message on Thursday confirmed the decision, but didn't say when the watchdog would file the four references. A full statement will be issued later, he said.
Sharif, who is currently in London while his wife undergoes cancer treatment in the U.K. capital, was disqualified from office following a landmark ruling by the South Asian nation's top court in July that said he was "dishonest" in his financial disclosures. He has denied any wrong doing. A spokesperson for Sharif couldn't immediately be reached for comment. Information Minister Marriyum Aurangzeb and a spokesman at Pakistan's finance ministry didn't answer calls seeking comment.
The charges, while expected after the Supreme Court ordered the anti-corruption body to investigate the corruption allegations further, will add further pressure on the ruling Pakistan Muslim League-Nawaz ahead of elections next year. Imran Khan, the leader of Pakistan's second largest opposition party, brought the case against Sharif and is hoping to lure dissatisfied PML-N politicians after his hard driving anti-graft campaign.
Panama Papers
Sharif and Dar will face trial and if found guilty may get a jail sentence and forfeiture of property, Shaukat Hayat, a lawyer in Karachi, said by phone.
Sharif was the second world leader to be felled by last year's Panama Papers leak, following the resignation of Iceland's prime minister. The leaks also led to the exit of Spain's industry minister, two pension fund CEOs in Iceland and senior European bankers. It also prompted increased regulatory scrutiny of offshore accounts around the world.
Investors have been spooked by Pakistan's recent political and economic deterioration and the nation's key stock index entered bear market territory last month.
The current account gap has more than tripled to $4.3 billion in the quarter ended June, the worst level in more than four decades, according to data compiled by Bloomberg. The central bank's foreign exchange reserves have declined by a quarter since an October peak.
Prime Minister Shahid Khaqan Abbasi, who was appointed as Sharif's successor, in an interview last month said the removal of Sharif did hurt business sentiment, but projects will continue as planned and growth targets will be met.
Before it's here, it's on the Bloomberg Terminal.
LEARN MORE