Merkel Warns Against Complacency as Polls Show Rival Fading
By
Social Democrats under Martin Schulz polling at historic lows

'I'm telling you that it's not' over: Merkel on Sept. 24 vote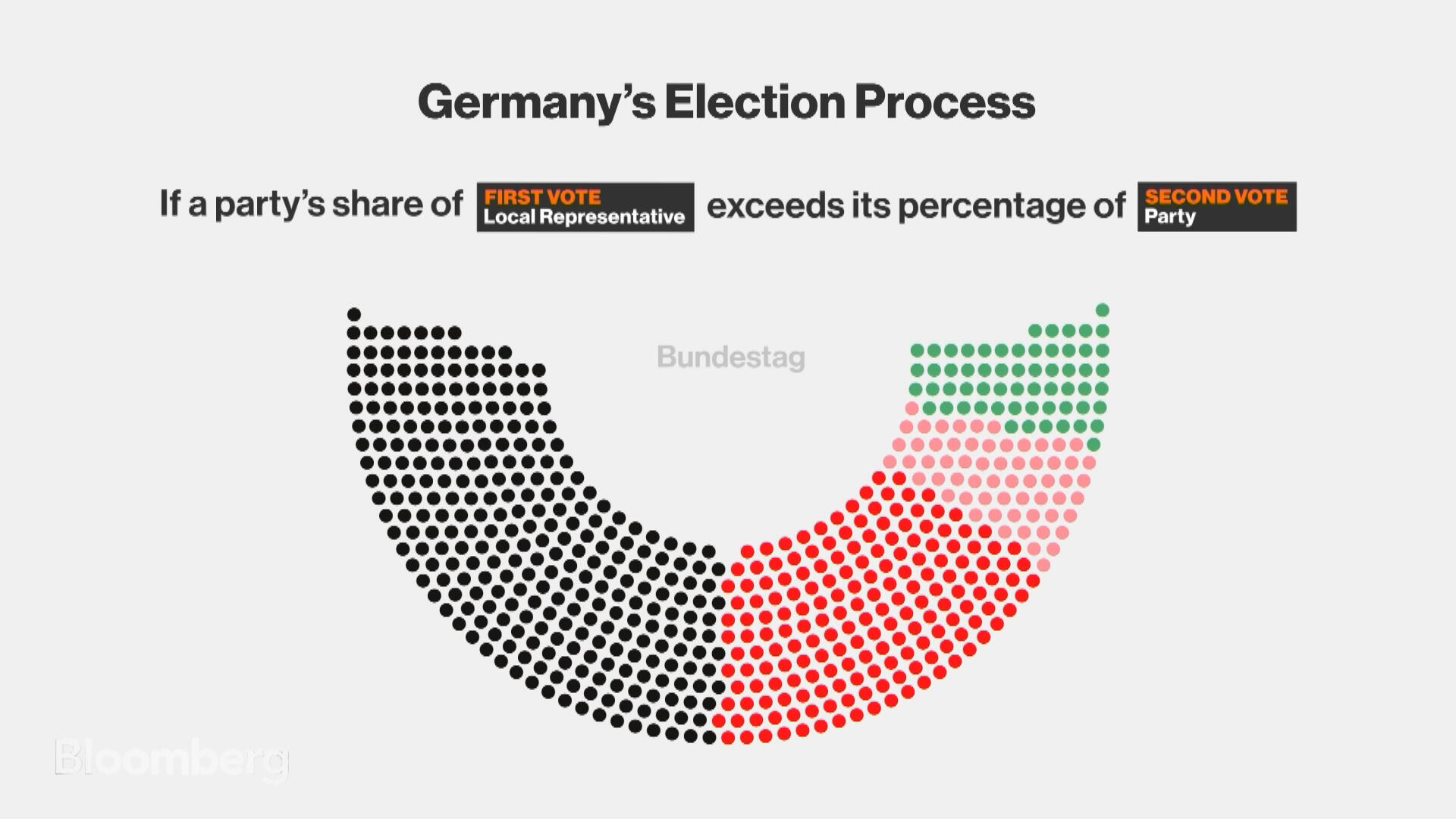 German Chancellor Angela Merkel warned her supporters against complacency as a flurry of polls all suggested her Social Democratic Party challenger is facing electoral disaster on Sept. 24.
Merkel was speaking in Mainz on the River Rhine on Thursday evening as two polls were released showing support for the Social Democrats led by Martin Schulz plumbing historic lows. A third on Friday also showed the SPD challenge fading. With little more than two weeks until the federal election, Merkel told the rally of her Christian Democratic Union that she still needs every vote.

"We're hearing a lot that the election is somehow already decided," Merkel told a crowd of several thousand in Mainz, some 40 kilometers (25 miles) west of Frankfurt. "I'm telling you that it's not. The CDU doesn't have any votes to squander."
After Schulz failed to score a breakthrough in the campaign's only televised debate, support for the two main rival parties -- partners in a "grand coalition" for the past four years -- appears to be solidifying, with Merkel's lead unassailable. While that all but ensures victory for Merkel and her bid for a fourth term, it also threatens to limit her coalition options.
Interactive guide to building your own German coalition
Merkel's CDU-led bloc enjoys a 16 percentage-point advantange over Schulz's SPD in both GMS and Infratest dimap polls released Thursday, plus Friday's FG Wahlen poll. GMS and FG Wahlen had the Social Democrats languishing at 22 percent support, and Infratest had them on 21 percent. If replicated on election day, either result would be the worst the SPD has recorded since World War II.
Such an "historic debacle," as Die Welt newspaper called it, could undermine the willingness of party members to agree to another grand coalition, according to lawmakers. They say the SPD needs to score about 30 percent if the party is to win concessions on a program for government in coalition talks that would be acceptable to rank-and-file members.
"Schulz would have needed a major victory in last week's debate in order to reverse this trend," but he lost and "it looks rather that the SPD is even losing ground in the last two weeks," Peter Matuschek, chief political analyst with the pollster Forsa, said in a Bloomberg Television interview in Berlin.
With about half of voters undecided, political leaders are taking nothing for granted. Merkel is campaigning on Friday in her political homeland in the east of the country, where she faces a direct challenge from the anti-immigration Alternative for Germany party, or AfD. Schulz takes to the stage in Regensburg, Bavaria. In Berlin, former UKIP leader Nigel Farage will campaign for the AfD.
'It's a Disgrace'
Schulz sought to shore up his party's vote with an attack on the AfD on Thursday in the central city of Kassel, which is hosting a refugee-themed art display that the populist party has criticized. "This party isn't an alternative for Germany, it's a disgrace," newswire Deutsche Presse-Agentur quoted Schulz as saying at a rally.
The crowd for Merkel in Mainz, the capital of the state of Rhineland-Palatinate, was tamer than some rallies that have been disrupted by whistling, jeering AfD protesters.
In German Rust Belt, Anti-Merkel Populists Campaign for Her Exit
Merkel taunted the hecklers -- "Some people have come to holler and whistle, they can't do anything else" -- but reserved her political attack for the Social Democrats, accusing them of failing to rule out a possible coalition with the Greens and the anti-capitalist Left party.
"Our country can't afford any experiments in times like these," Merkel said. "These are unsettled times and we need stability and security."
Merkel's bloc had 38 percent support, according to GMS, with her party's traditional Free Democratic Party allies on 10 percent, enough to form a possible government. Infratest showed the two parties falling short of majority, with a combined 46 percent. That would leave a three-way coalition with the Greens and FDP as a possible option.
"If the numbers in the election open this possibility, there is a good chance that we will have this type of coalition," said Forsa's Matuschek. "Because I would assume that there will be people within the SPD, if the result is very bad, as it looks right now, who would say we would rather prefer going into opposition and leave the field for the other parties."
— With assistance by Rainer Buergin, and Matthew Miller
Before it's here, it's on the Bloomberg Terminal.
LEARN MORE