Menendez Judge Blasts U.S. for 'Tabloid' Start to Bribery Case
By and
Prosecution details Paris hotel suite and bathroom perks

'I'm not going to permit this to be a tabloid trial' -- judge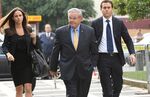 Prosecutors had barely begun presenting evidence in a federal corruption trial of U.S. Senator Robert Menendez when the judge lit into them for painstaking questions about a $1,500-a-night Paris hotel suite where the lawmaker stayed, saying the government's case was "tabloid in nature."
Menendez, a New Jersey Democrat, went on trial Wednesday in Newark, New Jersey, accused of using his office to advance the business and personal interests of a wealthy friend, Salomon Melgen, in exchange for private jet trips and luxury stays in Paris and the Dominican Republic. Melgen, a Florida eye doctor, is also charged. 
The government's first witness Thursday was an FBI analyst who was walked through an email exchange involving one of the more salacious aspects of the government's claims -- that Melgen paid for Menendez to spend three nights in an upscale Paris hotel with a woman with whom prosecutors say he was having a romantic relationship.
J.P. Cooney, a Justice Department prosecutor, directed the analyst through a discussion of messages the senator exchanged with one of Melgen's assistants and others about booking a hotel room that included "a limestone bath with soaking tub and enclosed rain shower." He continued with questioning aimed at showing the jury that Menendez was angling for a particularly expensive room when Judge William Walls asked the jury to leave the courtroom.
"I'm not going to permit this to be a tabloid trial," Walls told Cooney.
Senator's Bribery Case May Hinge on 'Official Acts' Meaning
The judge vowed to show little patience for lines of questioning he regarded as irrelevant to the core of the bribery claims. His early objections could pose a particular obstacle to prosecutors who took the brunt of his vitriol. Besides telling the government it was introducing evidence he considered irrelevant and prejudicial, Walls criticized prosecutors for failing to follow the rules of evidence by making assumptions that he said weren't supported by the facts -- like the U.S. claim that Menendez's Paris trip was a romantic liaison.
Later in the day, Walls sent the jury out for a second time during a cross-examination by Abbe Lowell, an attorney for Menendez, and he expressed frustration with prosecution and defense attorneys. "I'm telling both of you, I'm going to ride herd on what I consider to be irrelevant departures from your path," Walls said.
Prior to Thursday's outburst, the judge's relationship had been particularly testy with Menendez's lawyers, sparring over his pre-trial rulings and jury selecton.
On Wednesday, for instance, another Menendez attorney, Raymond Brown, said a ruling by the judge had disparaged the senator, which Walls denied. When Brown insisted that he had, Walls said: "That's nonsense. Shut up for a moment if you don't mind."
Political Implications
In opening statements, defense lawyers didn't deny the gifts that Melgen gave to Menendez as outlined in the indictment, or actions that the senator took to help the doctor. Rather,
defense lawyers deny that the men acted with corrupt intent.
Earlier Thursday, Kirk Ogrosky, an attorney for Melgen, wrapped up the defense's opening statements by painting a picture of a decades-long friendship between the doctor and Menendez that was cemented by similar backgrounds and political interests. Ogrosky sought to debunk the government's portrayal of two men living the high life by showing photos of family dinners in Melgen's home in Casa de Campo, Dominican Republic, where he said the senator made his own bed and ironed his own shirts.
"I'm here to tell you today that friendship is an absolute defense to bribery," Ogrosky said. "Because when you do things for friends because you love them like a brother, it's no bribe."
The jury's verdict could have important implications in the Senate, where Republicans hold 52 seats, while Democrats control 46 and count on two independents who caucus with them. If he's convicted, two-thirds of the Senate would have to vote to expel him.
The case is U.S. v. Menendez, 15-cr-00155, U.S. District Court, District of New Jersey (Newark).
Before it's here, it's on the Bloomberg Terminal.
LEARN MORE