technology
Knicks Make a Winner Out of Dolan Even as TV Businesses Sour
By
MSG Networks is said to be available for right buyer, price

Madison Square Garden rises 42% after split from media assets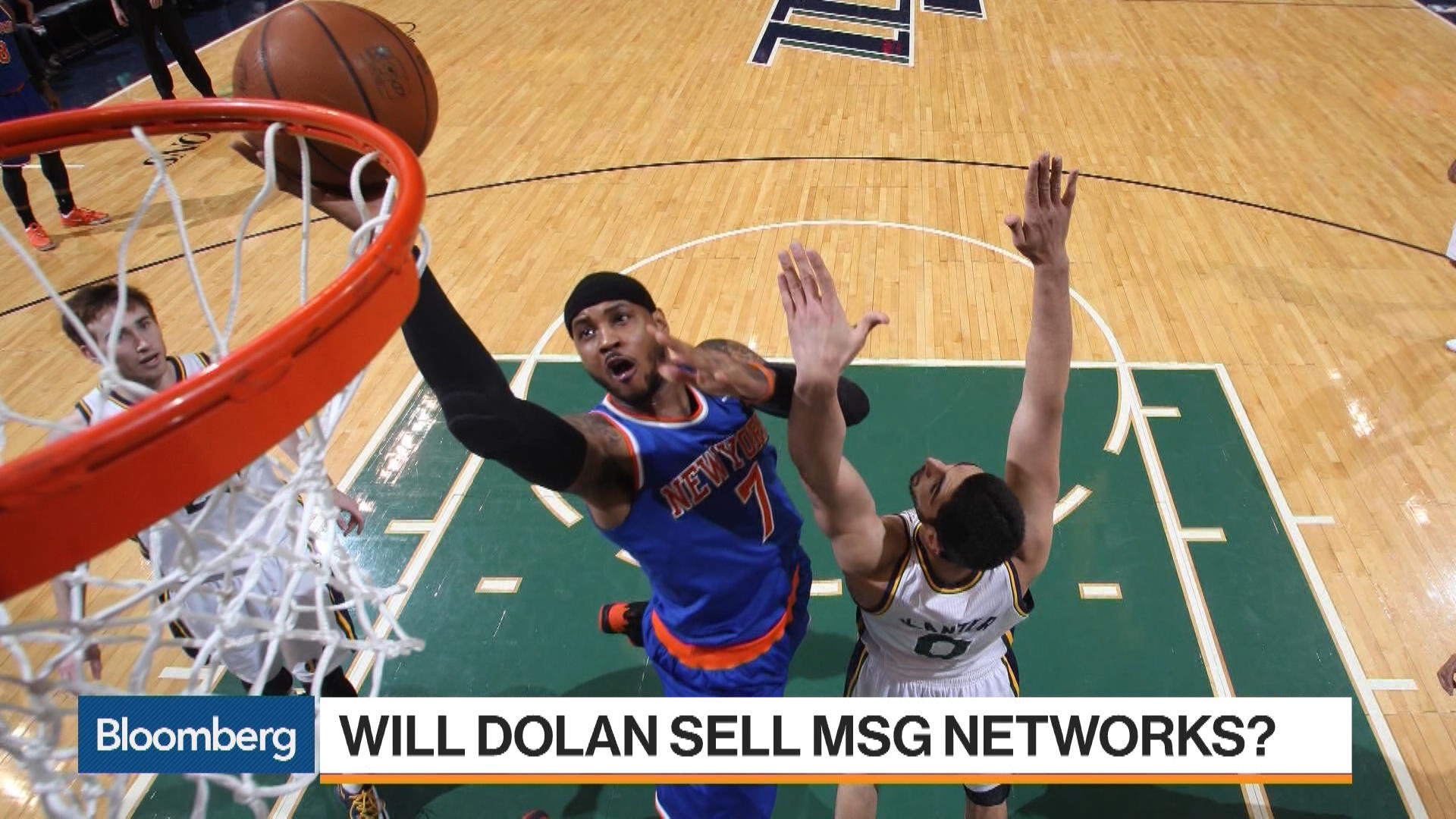 The New York Knicks, one of the worst teams in the National Basketball Association the last three years, keep making Jim Dolan richer. It's the other parts of his empire that look questionable.
Fans may point fingers at Dolan, 62, for the Knicks' on-court struggles, but the team's value has surged to $3.5 billion, according to Macquarie Research, which based its figures on the $2.2 billion sale of the Houston Rockets this week. The Knicks, part of the Dolan family's Madison Square Garden Co., are "Jimmy's toy," said Bloomberg Intelligence analyst Paul Sweeney -- a glamorous asset in the world's biggest media market.
The rising fortunes of Madison Square Garden are separating the Dolans' major holdings into winners and losers, fueling speculation that the family will part with their underperforming cable assets. Those include controlling stakes in MSG Networks Inc., which airs Knicks and New York Rangers games, and AMC Networks Inc., the home of "The Walking Dead" and other hits.

MSG Networks is coming up on the two-year anniversary of its split from Madison Square Garden. Starting next month, a conservative tax attorney would say the family can sell assets without endangering the tax-free status of the spinoff, according to Brandon Ross, an analyst at BTIG Research. That's among the reasons the Dolans would be willing to sell MSG Networks to the right suitor at the right price, according to a person familiar with the matter.
"Everyone is looking to Oct. 1 as the date that MSG Networks really comes in play," Ross said.
The television business is in a period of upheaval as consumers shut off their cable subscriptions, turning away from channels like MSG and AMC and toward Netflix, Facebook and Snapchat for entertainment. Dolan himself has called attention to the shifting landscape.
"Viewing habits are changing and how people get the game and how they view it is also changing," he said during a panel at the International Consumer Electronics Show earlier this year. "And I don't know that those old monetization vehicles are going to continue to work."

A spokesman for Madison Square Garden and MSG Networks declined to comment.
As executive chairman of both companies, Jim Dolan is the most prominent family member in the business, though his 90-year-old father Charles remains chairman of AMC and is on the boards of the others. The family controls all three through a collection of trusts and investment vehicles.
Wall Street is betting that hosting live sports and concerts is a better business than broadcasting them on TV. Shares of Madison Square Garden, which owns the iconic New York arena and other venues in addition to the Knicks and Rangers, are up 42 percent since the split with MSG Networks, which is up just 14 percent in that span. AMC has sunk 19 percent.
The Dolans seem to be making the same calculation, investing heavily in Madison Square Garden. The company just completed a $1 billion renovation of the famous arena and plans to bring a new venue to Las Vegas. It recently bought stakes in a dining and hospitality group, a music festival producer and an esports company. Revenue from TV rights is expected to keep growing, and the Knicks and Rangers are playing to near-capacity crowds.
First of Its Kind
MSG Networks, founded in 1969 as the first regional sports network in the country, split from Madison Square Garden in 2015 after pressure from an investor to find more value. At the time, TV networks were gobbling up rights to sports broadcasts because the programming seemed Netflix-proof -- viewers still wanted to watch games live and sit through the ads.
Since then, sports broadcasts have had mixed results in the ratings, calling their resilience into question. The Dolans' network faces greater scrutiny from investors than its peers because it's the only regional sports channel that's a standalone public company. 21st Century Fox Inc., Comcast Corp. and AT&T Inc. own regional sports networks but they're less under the microscope as part of large conglomerates.

AMC, which established a bold reputation in the past decade with iconic TV shows such as "Mad Men" and "Breaking Bad," has also been hit by falling ratings like other cable networks. Its name has come up as an acquisition target as companies like Discovery Communications Inc. buy smaller rivals to get more negotiating leverage with distributors. Discovery agreed in late July to acquire HGTV owner Scripps Networks Interactive Inc., also long controlled by a single family.
The Dolans have already taken one step away from the TV business. Last year, they sold Cablevision Systems Corp., a cable provider in Long Island, to the European telecom company Altice for $17.7 billion. That deal may have hurt MSG Networks, which was previously able to use its common ownership with Cablevision in negotiations with other pay-TV distributors. If Comcast Corp. didn't carry MSG Networks, Cablevision might not carry Comcast's NBC Universal channels. Now, the Dolans don't have that leverage anymore.
Tax Implications
MSG Networks' revenue increased 3 percent last year by demanding higher rates from pay-TV providers. MSG and its sister channel, MSG Plus, charged $6.55 per subscriber combined in 2016 -- higher than any other regional sports network, according to SNL Kagan.
The channel has the advantage of airing sports in the biggest TV market in the country. So while the Knicks struggle, "they're always going to get a substantial audience," said Lee Berke, president of LHB Sports, Entertainment & Media Inc., a consulting firm.
But like other cable channels, MSG Networks is losing about 2 percent of subscribers each year. The network has tried to stem the losses by signing a distribution deal with a new online TV provider that hasn't been announced, but it faces a key carriage renewal soon with Charter Communications Inc., the main cable provider for New York City, analysts say.
"Given the fact that it's the only one without any other media assets it seems like a likely candidate to be purchased by somebody," Berke said.
(
Updates analyst comment in fourth paragraph.
)
Before it's here, it's on the Bloomberg Terminal.
LEARN MORE