Kenyan Electoral Body Chairman Asks CEO to Explain Vote Failures
By
Chairman asks CEO to explain issues with ballot papers

Supreme Court annulled election result, ordered rerun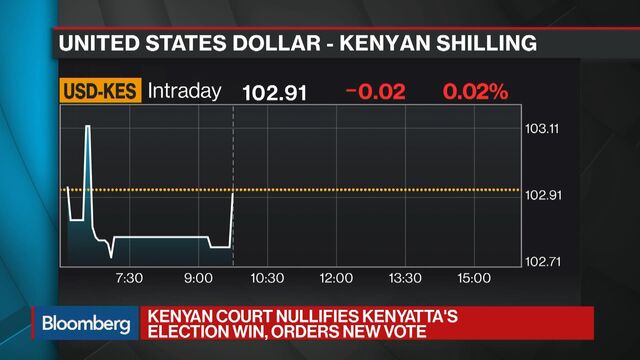 Kenya's main opposition group said the head of the electoral commission requested an explanation from the chief executive officer about a series of failures in last month's annulled election, highlighting divisions within the body as it prepares a rerun in October.
Independent Electoral & Boundaries Commission Chairman Wafula Chebukati asked CEO Ezra Chiloba to clarify issues, including why a username had been created in Chebukati's name without his consent. The requests are contained in a Sept. 5 memorandum sent to Bloomberg by the opposition National Super Alliance, whose chief executive officer, Norman Magaya, said the IEBC had authenticated the document.
IEBC spokesman Andrew Limo said a copy of the memo forwarded to him by Bloomberg "looks authentic." He declined to comment further. Calls to Chiloba's phone didn't connect when Bloomberg sought comment Thursday.
Four commissioners, including the electoral body's vice chairperson Consolata Maina said the memo hadn't been "discussed and sanctioned" by the IEBC's plenary and they only learnt about it through the media, according to a joint statement posted on the regulator's Twitter account. Allegations contained in the memo "are based on some report or information that has not been brought to the attention of the Commission", they said. "Most of the issues raised are not factual and could easily mislead if taken out of context."
Kenya's Supreme Court on Sept. 1 canceled the election result, the first such ruling in Africa, and ordered a new ballot to be held. The Oct. 17 rerun has increased uncertainty in East Africa's biggest economy, where growth is already slowing.
Opposition presidential candidate Raila Odinga has demanded the electoral commission be overhauled and said he wants guarantees on fairness before his alliance agrees to participate in the rerun. The ruling Jubilee Party led by President Uhuru Kenyatta, who was declared the winner of last month's vote, has rejected any changes to the commission.
'Porous System'
The three-page memorandum seeks a response on why satellite phones bought by the commission at a cost of 848 million shillings ($8.2 million) and distributed to constituencies for results transmission failed to work. Chebukati also asked for an explanation about the absence of security features on ballot papers, the failure of the election-results transmission system and the commission's use of a "porous file server system" to transmit election results.
Chebukati on Tuesday appointed six people to handle the rerun, excluding members of the commission who conducted the Aug. 8 vote.
Kenya's Labour & Industrial Relations Court on Thursday declined to issue temporary orders restraining the commission from suspending or firing Chiloba and other secretariat directors, Capital FM reported. The Kenya Independent Commissions Workers Union earlier brought an application for the order because the officials had been publicly condemned without any investigation, the Nairobi-based broadcaster said.
Chiloba said he hadn't instructed anyone to go to court on his behalf, Capital said.
Before it's here, it's on the Bloomberg Terminal.
LEARN MORE