Investors Weigh Korea Contingencies as Conflict Risk Mounts
By and
Haven assets including gold, yen, Swiss franc among targets

Global stock markets have proven resilient so far this year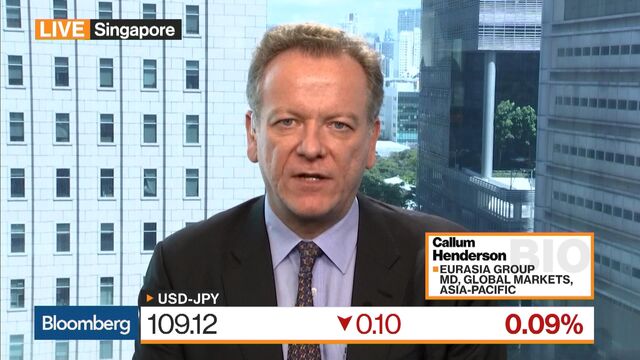 After shrugging off headlines about rising tensions on the Korean peninsula for much of 2017, some investors are starting to consider how to exit from the region in the worst-case scenario of a conflict.
While South Korea's Kospi Index has given investors a 15 percent return so far this year -- set for the best performance since 2010 -- and global stocks are hovering near their August peak, the picture could change rapidly should provocations from Kim Jong Un's regime trigger a military conflict between North Korea and the U.S.
"If this becomes less of a Korea story and more of a regional story then you'll find a lot of investors potentially heading for the exit," said Dwyfor Evans, head of Asia Pacific macro strategy with State Street Global Markets in Hong Kong.

A confrontation may lead to Asian stocks plunging 20 percent and the region's currencies weakening by as much as 10 percent, according to analysis from UBS Wealth Management's Global Chief Investment Officer Mark Haefele. The firm has boosted the odds of a military conflict over the next six months to a range of 10 to 20 percent, from less than 10 percent in April. 
Caution is the buzzword at AMP Capital Investors Ltd., which has boosted cash levels in one of its funds to 30 percent, said Shane Oliver, the Sydney-based head of investment strategy.
Investors fleeing the region would flock to havens including U.S. Treasuries, the Japanese yen, Swiss franc and gold, State Street's Evans said. The risk-off sentiment intensified this week after North Korea conducted its sixth and most powerful nuclear test on Sunday.
Deutsche Bank Wealth Management would "massively reduce" its exposure to equities and credit and buy haven assets such as gold and the Swiss franc in the event of war, said Tuan Huynh, chief investment officer for Asia Pacific.
The Swiss Franc and yen were the best performers the following day among the G-10 group of most-traded currencies. Spot gold has risen 1.1 percent this week to trade near the highest level in about a year, while yields on the 10-year U.S. Treasury bond have slid about 22 basis points since the end of July.
'Buying Opportunity'
Sumitomo Mitsui Trust Asset Management Co. said that while the risk of war is "very, very low" it would use declines sparked off by any armed conflict to add to the emerging-market currencies it owns, including the Turkish lira, South African rand, Mexican peso, Brazilian real and Indonesian rupiah.
"We'll probably hold more cash in yen in that scenario," said Hideaki Kuriki, chief fund manager. "We also see the potential of such declines in providing us buying opportunities."
Singapore's currency and bonds offer another haven, according to Rajeev De Mello, head of Asia fixed income at Schroder Investment Management in the city state.
"Countries further away from the crisis area and also with current-account surpluses will be less affected," he said. Short-tenor bonds are good bets as there may be expectations of interest-rate cuts in a number of countries, De Mello said.
War Drills
Meanwhile, financial-services companies in South Korea continue to prepare for the worst-case scenario.
The National Pension Service, the world's third-largest pension fund, and 4,000 state and private organizations participate in drills to practice evacuations and response to infectious diseases in case of biochemical attacks, according to the Ministry of Security and Public Administration.
While investors are bracing for more provocations from North Korea -- the nation has been seen readying another intercontinental ballistic missile launch to mark its founding day on Sept. 9 -- market reactions to such events have been muted in the past. The MSCI Asia Pacific Index has slid an average of just 0.4 percent in the 10 days after past nuclear tests going back to 2006.
"Historically, strategic strikes or military interventions led by the U.S. have resulted in short-lived market reactions," Bryan Carter, head of emerging market debt at BNP Paribas Asset Management, said by e-mail. "The market appears to be assuming this time is no different." However, the money manager isn't "lulled into the consensus on this" and recommends caution, he said.
North Korea's latest nuclear test has given the market a fresh justification to reduce risk, according to AMP's Oliver.
"The reality that North Korea is close to being able to strike the U.S., and by implication parts of Australia and most of Asia with nuclear weapons, means the risks have gone up quite dramatically," he said in a phone interview. "It's all coming at a time when share markets have had good gains and there's a greater vulnerability to some sort of pullback."
— With assistance by Moxy Ying, Yumi Teso, and Heejin Kim
Before it's here, it's on the Bloomberg Terminal.
LEARN MORE