French Voters May Be Souring on Macron, But He's All They've Got
By
Opposition parties, unions in disarray as Macron pushes ahead

President backed by commanding majority in National Assembly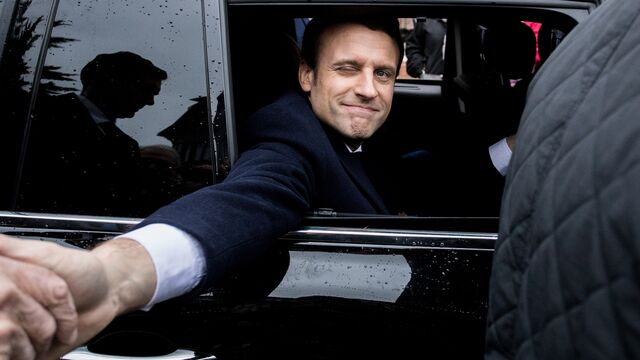 Emmanuel Macron's poll numbers have been tumbling all summer. But it may not be enough to throw France's 39-year-old president off track just yet.
Macron still has a solid majority in the National Assembly and doesn't even face local elections for several years. Meanwhile, the economy is recovering, the unions are divided and his parliamentary opposition is in tatters.

That's still a solid platform for Macron's plans to remake France and the euro area over the next five years. Macron will outline some of his ideas on a state visit to Greece Thursday in a speech on the Pnyx, a hill opposite the Acropolis which was the heart of ancient Athenian democracy.
"I don't think Macron needs to be overly concerned," said Rainbow Murray, a reader in politics at Queen Mary University of London. "The lack of an opposition is a particular element in his favor at the moment. And, with a loyal parliamentary majority, he can afford to dig in his heels a bit."
Macron has already embarked on a wide-ranging plan to revive the economy with a labor-market liberalization due to come into force this month. He's also proposed business-friendly tax cuts, a reform of job-training schemes and support for entrepreneurs in a bid to prove to skeptical Germans that France is a reliable partner for deeper European integration.
By showing France can reform and revive its economy, Macron hopes to bring Germany around to accepting moves that could include a common budget and a "finance ministry" under democratic oversight. In an interview with Athens-based newspaper Kathimerini Thursday, he said it was in everyone's interest to inject more democratic supervision into the euro zone to correct its dysfunctions.
Steep Decline
All the same, the slide in the president's numbers since his election in May has been steep. His approval rating in September was 41 percent, according to Kantar Sofres, down 13 points in two months. YouGov put him as low as 30 percent. At this stage in their presidencies, Francois Hollande was at 50 percent and Nicolas Sarkozy at 64 percent, though they both ended up going way lower.
Macron's popularity was hit by a public spat over military spending that led France's top general to quit, a poorly prepared cut to a popular housing subsidy, and back-and-forth discussions about giving his wife Brigitte an official status. His taste for presidential pomp has also upset some, whether that's hosting Vladimir Putin at the Chateau de Versailles, taking Donald Trump for dinner at the Eiffel Tower, or indeed, aligning himself with the ancient-Greek leaders who laid the foundations of western civilization.
But pollsters say the decline may also reflect a return to a more natural level for a president who won just 24 percent support of a deeply divided electorate in the first round of the election.
'Angry Country'
"Even if France elected a liberal pro-European as president, it remains a very angry country," said Emmanuel Riviere, managing director of Kantar France.
The president's challenge is to win round those angry voters before he has to face re-election in 2022, and with 360 of the 577 seats in the National Assembly he has full powers to implement his plans. Parliament has already passed new anti-terrorist powers for French police and gave Macron's government the power to rewrite France's labor law by decree.
The labor-law overhaul has divided France's three main unions. The CFDT and Force Ouvriere have refused to join a Sept. 12 protest organized by the CGT. The Socialist Party says it supports the CGT's opposition to the labor laws, but won't call on its members to join the protests.
The split among organized labor is mirrored in parliament. The biggest opposition group, led by former President Sarkozy's Republicans, won 135 seats in June's legislative election but 35 so-called constructives instantly split off to offer conditional support for Macron. The party is preparing to expel the rebels, as well as members such as Prime Minister Edouard Philippe and Finance Minister Bruno Le Maire who joined Macron's cabinet.
No Competition
The Socialists and their allies fell to 31 seats from about 270 and various party leaders are toying with creating new political movements. National Front leader Marine Le Pen has fallen silent as she seeks to contain a party rebellion over her poor showing in the second round of the presidential election.
Several opposition leaders have simply given up. Henri Guaino, once a close ally of Sarkozy, now has a radio show. Jean-Pierre Raffarin, a prime minister under Sarkozy, has joined France2 television. Others have had to find more ingenious ways to oppose Macron.
The only opposition party that's united is presidential candidate Jean-Luc Melenchon's France Unbowed, which is organizing its own protest against the labor law on Sept. 23. But Melenchon's challenge to Macron is built on just 17 seats.
"He has no competition," Riviere said. "The Republicans and the Socialists are deeply divided, and Le Pen is nowhere to be seen. Melenchon is the most credible opponent, but it's very unlikely that any Macron voters will defect to him."
Macron, who at the end of August toured Austria, Romania and Bulgaria, is using his trip to Greece not only to push his vision of greater integration of the euro zone, but also to show support for Greece's fledgling economic revival. He's bringing about 40 chief executive officers to encourage investment in the country, which is due to exit debt support programs next year. Besides the evening address at the Pnyx, Macron will hold a joint press conference with Prime Minister Alexis Tsipras.
Before it's here, it's on the Bloomberg Terminal.
LEARN MORE