Fed's Mester Doubles Down on Push for Gradual Rate Increases
By
'Conditions remain in place for inflation to gradually return'

Mester favors beginning balance-sheet unwind in 'near future'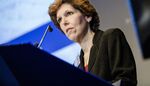 Federal Reserve Bank of Cleveland President Loretta Mester broadened her argument for sticking to a gradual path of interest-rate increases, urging her colleagues to stay the course despite weak readings on inflation.
"The conditions remain in place for inflation to gradually return over the next year or so to our symmetric goal of 2 percent on a sustained basis," Mester, one of the more hawkish officials at the U.S. central bank, said in a speech Thursday in Pittsburgh.
Responding to questions from reporters after the speech, she said she'd be "comfortable" raising rates again this year, and made clear that holding off on another increase until March 2018 wouldn't fit with her idea of "gradual rate hikes."
"There hasn't been enough evidence that inflation is on a different trajectory now," she said. "This gradual path balances the risks on both sides, and I would stick with it longer."
While most investors expect policy makers to keep rates unchanged when they next meet on Sept. 19-20, they are expected to announce a timetable to start shrinking their $4.5 trillion balance sheet at that meeting. Mester said she favors starting the process of unwinding the balance sheet "in the near future."
Soft Inflation
In the meantime, Fed officials are debating how they should respond to soft inflation data. Fed Governor Lael Brainard, long cautious about raising rates, said Tuesday the Fed should hold off on additional hikes until officials are more confident that inflation will bounce back toward the Fed's target. Mester, who dissented in favor of tighter policy twice last year, stuck by her past stance that recent soft readings will prove transitory.
Recent "price declines aren't signaling a general downward trend in consumer prices from weak demand," she said. "Instead, they reflect supply-side factors and relative price changes."
Inflation has lagged below the Fed's 2 percent target for most of the past five years. The Fed's preferred measure of price pressures, excluding food and energy components, rose just 1.4 percent in the 12 months through July.
Mester acknowledged that continued weak price changes could undermine inflation expectations, something she said was a "key component" in her outlook for price increases. Lower expectations, she said, would make it more difficult to lift inflation in the long term, but she said she didn't expect that to occur.
Lackluster productivity growth, she said, was also a factor in holding down wages, even as some businesses are forced to lift pay as they confront worker shortages.
"Unless productivity growth picks up, I wouldn't expect to see a strong acceleration in wages," she said.
Mester said she was particularly encouraged by a recent upswing in business investment, though she drew attention to growing fatigue among some firms in her district over political and fiscal policy uncertainty in Washington.
"There are scattered reports from a few firms that they are delaying some of their planned investment until the picture becomes clearer," she said. "A pullback on investments in physical and human capital or in research and development leading to innovations would be particularly troubling."
Before it's here, it's on the Bloomberg Terminal.
LEARN MORE