EpiPen Maker Neglected 'Hundreds' of Complaints About Defects
By
Pfizer manufactures the shots, which are sold by Mylan

Defects associated with 'patient deaths and severe illness'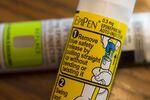 A Pfizer Inc. unit that makes the life-saving allergy shot EpiPen failed to investigate hundreds of complaints about defects in the auto-injecting pens, including in cases where patients were hurt or died, according to the U.S. Food and Drug Administration.
In a warning letter sent to Pfizer's Meridian Medical Technologies division, the FDA said the company "failed to thoroughly investigate multiple serious component and product failures for your EpiPen products, including failures associated with patient deaths and severe illness."
Pfizer manufactures the EpiPens for Mylan NV, which sells the injectors and has come under criticism for the product's price. Last year, Pfizer made $386 million from the product.
"It's not unusual to receive product complaints, especially when the product is frequently administered by non-medically trained individuals," Pfizer said in a statement, adding that it was confident in the safety of the product. "We currently have no information to indicate that there was any causal connection between these product complaints and any patient deaths."
Theresa Eisenman, an FDA spokeswoman, said the agency was aware of adverse events related to EpiPens, but didn't provide further details on the number of deaths.
Mylan doesn't expect a shortage of product because of the warning and is "confident in the safety and efficacy of EpiPen products being produced at the site," it said in a statement.
In the FDA letter, dated Sept. 5, the drug agency said the Pfizer unit "also failed to expand the scope of your investigations into these serious and life-threatening failures or take appropriate corrective actions, until FDA's inspection."
Product Defects
In some cases, the epinephrine in the EpiPens was leaked inadvertently, meaning that there was no drug left when patients needed it. In other cases, the injectors didn't work properly.
Pfizer also didn't initially remove potentially defective products from the market even after identifying a faulty part that was causing the problems, according to the agency. It later recalled some EpiPens after being pushed by the FDA.
Between 2014 and 2017, the Pfizer unit received 171 product samples that were the subject of complaints but didn't disassemble the "vast majority" of them and didn't offer FDA investigators a reason why, according to the warning letter.
Mylan shares closed down 1 percent to $31.91, and Pfizer shares were unchanged at $33.99.
The FDA told Meridian to correct the violations promptly. The inspections were conducted at Meridian's manufacturing facility in Brentwood, Missouri, from Feb. 20 to March 24, according to the letter.
— With assistance by Jared S Hopkins
Quotes from this Article
Before it's here, it's on the Bloomberg Terminal.
LEARN MORE