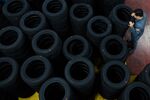 Chinese overseas acquisitions have been thwarted not just by Beijing's limits on capital outflows but by protectionism. The collapse of a South Korean tire deal, however, is a loss for both sides.
The failure of Qingdao Doublestar Co.'s bid for 42 percent of Kumho Tire Co. has wider implications, too: It sends a message to cash-flush foreign buyers that dislodging assets from the grip of Korea's chaebol won't be easy, despite the country's reform agenda.
The Doublestar bid for Kumho, once part of the Kumho Asiana Group conglomerate, fell apart after the tiremaker's creditors-turned-shareholders rejected attempts to reduce the price.

Doublestar agreed in March to buy the tiremaker, Korea's second-largest after Hankook Tire Co., for 955 billion won ($845 million). Losses disclosed since then hammered Kumho's shares, and the Chinese company tried to cut the price to 720 billion won. Korea Development Bank and other owners balked, and the deal was off.
While Kumho's creditor-owners may have been right to reject so deep a discount, Doublestar probably never had much of a chance.
Park Sam-koo, chairman of Kumho Asiana, had right of first refusal on the sale and has long said he wanted to buy back Kumho Tire: He lost the unit to creditors at the end of 2009, and was struggling this year to raise funds for a purchase. Park is still the listed company's co-chief executive -- another demonstration of the power of chaebol links.
While Kumho could have used the capital, and some help in the Chinese market, a sale was never going to be straightforward. South Korean officials objected because Kumho supplies tires for fighter planes, and tensions with China over missile defenses strengthened their opposition. Park now has until Sept. 12 to come up with a rescue plan.
Had it gone ahead, the Doublestar deal would have been among China's biggest in South Korea. It would have helped erase memories of SAIC Motor Corp.'s ill-starred 2004 purchase of a controlling stake in Ssangyong Motor Co., which ended with the Shanghai-based manufacturer's exit in 2009 after a string of losses. There have been few acquisitions since then.
With Doublestar out, Kumho Tire's owners will now need to relaunch the sale process, or allow Park to buy the company. In several of the rare cases where chaebol let go of assets, the buyer was domestic -- as in 2015, when the Samsung Group sold its chemical business to the Lotte Group. Foreign purchases have involved mainly private equity.

This is more than a failed China deal. It's a missed opportunity for South Korea to show that the M&A avenue to corporate restructuring works.
Before it's here, it's on the Bloomberg Terminal.
LEARN MORE