Bank of Russia to Weigh Easing, No Rush to Rebuild Reserves
By , , and
Nabiullina sees discussion of decreases of 25, 50 basis points

Risks to Russian inflation remain, governor says in interview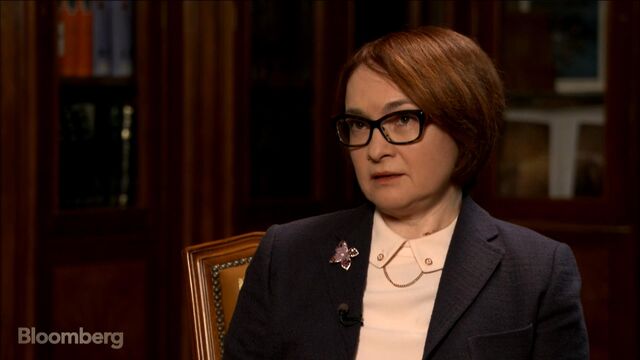 Governor Elvira Nabiullina said Russia's central bank is set to discuss a reduction in its key interest rate by as much as half a percentage point at a meeting next week after a pause in July but stressed that risks for inflation linger even after it fell below the 4 percent target.
"We see room to reduce rates, and there will probably be a discussion about cuts of 25 or 50 basis points," Nabiullina said in an interview with Bloomberg Television in Moscow on Thursday. "It will depend on an analysis of the situation and on our forecast of the economy's development, inflation, inflation expectations."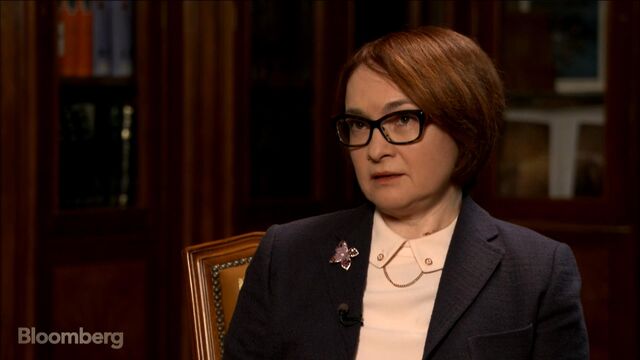 While the Bank of Russia halted its monetary easing cycle after three straight cuts, an inflationary shock in June has dissipated fast, with price growth falling to a record 3.3 percent in August and staying below the central bank's target for two months. Inflation expectations, which policy makers call a "pillar" of rate decisions, also fell to the lowest ever last month.
"The pace of rate cuts should correspond with the dynamics of inflation expectations, so that we are primarily oriented toward the fundamental -- not one-time -- factors of slowing inflation," Nabiullina said. "We understand that inflation will fluctuate around 4 percent. The economy is a living organism, it's natural."
Rate Path
Two of this year's three reductions came in steps of a quarter of a percentage point. Most economists polled by Bloomberg now forecast that the fourth rate cut will come in a step of 50 basis points, bringing the benchmark to 8.5 percent. With three meetings left this year, policy makers are set to bring the key rate to 8.25 percent by end-2017, according to another survey. 
"Our task is no less difficult now as we are shifting from a period of disinflation -- reducing inflation from high rates to our target -- to the phase of holding inflation close to 4 percent, stabilizing inflation and inflationary expectations," Nabiullina said.
Once the central bank reaches its nominal equilibrium rate of 6.5-7 percent, it can resume purchases of foreign currency for reserves, according to Nabiullina.
"We are in no rush because our reserves are sufficient under any measure," she said.
Inflation Swings
While inflation has swung between 4.4 percent in June to 3.3 percent in August, the central bank isn't concerned about the fluctuation and considers those readings to be near its goal, according to Nabiullina, who said the latest data suggest annual price growth is now at 3.2 percent.
"We don't see any significant deviation from the target now," she said. "What's important is how sustainable the trend is."
The central bank's reaction will depend on the factors behind such fluctuations and how long they might be in place, Nabiullina said. Inflation expectations are still elevated and not anchored, which is why rates remain above their "long-term equilibrium," she said.
The "structure of inflation" presents another risk, with volatile factors such as the seasonality of prices for fruit and vegetables roiling the outlook.
"It's important to work with the government to affect structural factors influencing the volatility of inflation and inflation expectations," Nabiullina said. Given the price swings, the conduct of monetary policy "must be very cautious, careful, because of these volatile factors."
— With assistance by Evgenia Pismennaya
Before it's here, it's on the Bloomberg Terminal.
LEARN MORE