Trump Responds 'We'll See' to Democratic Offer on Debt-Limit
By
A three-month suspension is less than Republicans prefer

'No second thoughts' about DACA, president tells reporters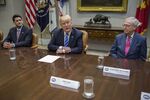 President Donald Trump responded Wednesday to a Democratic proposal to stave off a default on the national debt for three months with a non-committal "we'll see."
Trump spoke to reporters at the beginning of an Oval Office meeting with House Speaker Paul Ryan and Senate Majority Leader Mitch McConnell, both Republicans, as well as House Democratic Leader Nancy Pelosi and Senate Democratic Leader Chuck Schumer.
The meeting is intended to kick off a busy legislative session as the administration seeks an initial hurricane relief package and an increase of the nation's borrowing authority as soon as this week.
In a statement issued before the meeting, Pelosi and Schumer said Democrats were prepared to offer their votes for both the hurricane funding and a three-month suspension of the debt limit.
"We believe this proposal offers a bipartisan path forward to ensure prompt delivery of Harvey aid as well as avoiding a default," the pair said in a statement.
Asked about the proposal by reporters, Trump responded: "we'll see." Ryan rejected a three-month suspension as "unworkable" in a news conference shortly before the meeting.
A three-month resolution of the debt-ceiling problem is shorter than Republican leaders prefer. They'd like to avoid another standoff that could rattle financial markets until after the midterm elections in November 2018.
Obamacare, Immigrants
The Democrats also said they want to bolster Obamacare markets and provide assistance for immigrants enrolled in the Deferred Action for Childhood Arrivals, or DACA, program. Trump announced Wednesday that he planned to wind down the program rather than defend it against a legal challenge by a group of Republican state attorneys general.
The DACA decision earned a sharp condemnation from Pelosi, who in a statement called the move heartbreaking and a "cruel act of political cowardice." The comment sparked a rebuke from White House press secretary Sarah Sanders, who said that a fundraising appeal by Pelosi citing Trump's decision was "the most heartless thing that I've seen all day."
Trump told reporters at the Oval Office meeting that he has "no second thoughts" about his decision to end the program.
The Republican president has an extraordinarily strained relationship with Democratic congressional leaders, who have become regular targets of Trump's mockery on social media. In June, Trump taunted Pelosi, saying that if she was forced out of her position as Democratic leader it "would be very bad for the Republican Party."
He's repeatedly referred to Schumer as "Cryin' Chuck," a reference to a news conference in which the Minority Leader emotionally denounced the president's travel ban against a group of predominantly Muslim countries.
Later Wednesday, the president plans to turn his fire on Democrats again, calling in a speech he is to give in North Dakota for voters to remove them from office if they don't support his push to overhaul the tax code.
Before it's here, it's on the Bloomberg Terminal.
LEARN MORE