Remarks
Stanley Fischer, a Class Act, Is Resigning from the Fed
Born in Zambia, Fischer taught some of today's most famous economists and later headed Israel's central bank.
By
Stanley Fischer's decision to resign from the Federal Reserve Board of Governors deprives the institution of one of its most seasoned decision-makers, while giving President Trump even more of an opportunity to shape the central bank to his liking.
Fischer, 73, submitted his letter of resignation today, effective on or around Oct. 13, the Fed announced. He had served since 2014 as vice chair and has been a reliable ally of Fed Chair Janet Yellen.
It's highly unlikely that Fischer's resignation had anything to do with disagreements with the Trump Administration. In fact, by stepping aside he boosts the president by creating an additional opening that Trump can fill. There are already three vacancies on the seven-member board that runs the Fed out of Washington. The Board of Governors, in combination with presidents of the regional Reserve Banks, sets U.S. monetary policy—i.e., the level of interest rates.
In his resignation letter, Fischer said he was stepping down for unspecified personal reasons, said it was a "great privilege" to serve on the board, and expressed satisfaction with the Fed's role in strengthening the economy and making the financial system more resilient.
Fischer is royalty in central banking circles. He was born in Northern Rhodesia, now Zambia. As a professor of economics at Massachusetts Institute of Technology, he taught former Federal Reserve Chairman Ben Bernanke and current European Central Bank President Mario Draghi, as well as Larry Summers, a former Treasury Secretary, and Gregory Mankiw, who headed President George W. Bush's Council of Economic Advisers. Among others. Fischer also ran the Bank of Israel from 2005 to 2013, earning an A from Global Finance magazine. (Bernanke got a B.)
In financial markets, the immediate question is how Fischer's resignation will or won't shift the balance of votes on interest-rate decisions. It probably won't make a big difference. Fischer's speeches mark him as a centrist, siding neither with the hawks who want to raise rates aggressively nor the doves who worry that any increase could jeopardize economic growth.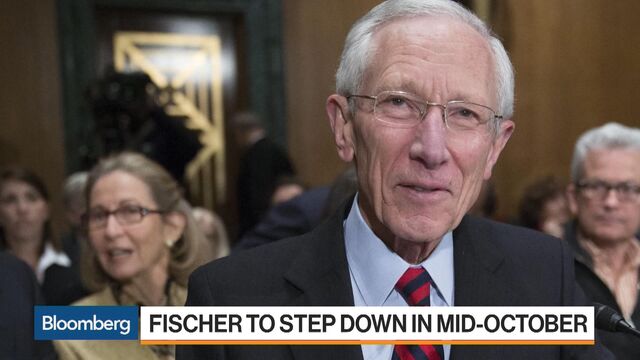 The Fed is expected by traders and economists to stand pat on rates at its next two meetings. Trading in the futures market implies expectations of a 25 percent chance of a hike in December.
Fischer's term as vice chair ends in June, although he could have remained as an ordinary member of the board until the expiration of his board term in 2020. Yellen's term as chair expires in February. Trump hasn't said whether he will nominate her for another term. She, too, could stay on the board as an ordinary member if she wishes—in her case, until 2024—although that's considered unlikely.
Trump said in July that White House senior economic adviser Gary Cohn is a leading candidate for the Fed chairmanship. In an interview with Bloomberg Television on Sept. 1, Cohn declined to discuss  the job, saying, "I'm really excited to be doing what I'm doing."
Capital Economics Chief U.S. Economist Paul Ashworth wrote in a client note that, since Yellen and Fischer have similar views, "without additional clarity, the markets will jump to the conclusion that this lowers the odds" that Trump will renominate Yellen.

Peter Coy
Bloomberg Businessweek Columnist
Peter Coy is the economics editor for Bloomberg Businessweek and covers a wide range of economic issues. He also holds the position of senior writer. Coy joined the magazine in December 1989 as telecommunications editor, then became technology editor in October 1992 and held that position until joining the economics staff. He came to BusinessWeek from the Associated Press in New York, where he had served as a business news writer since 1985.
Before it's here, it's on the Bloomberg Terminal.
LEARN MORE