WFAN's Carton Charged in Ticket Scheme to Pay Gambling Debts
By
Charges reflect more fallout from burgeoning resale business

SEC says sports talk host was seeking to repay gambling debts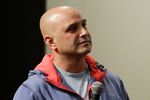 In the world of New York sports radio, Craig Carton is known as the quick-witted, unpredictable, top-rated co-host of a morning drive-time show that bounces from football to family life to sports betting. Federal prosecutors say he's also a Ponzi schemer.
Carton was arrested at his Manhattan home Wednesday and charged with ripping off investors, including a New York hedge fund, of millions of dollars in an alleged scam that involved buying and selling tickets to concerts that included Adele, Katy Perry, Justin Bieber and Barbra Streisand. U.S. regulators said he used the money to pay off gambling debts.
The hedge fund, which was not named by prosecutors, was Brigade Capital Management, according to a person who spoke on condition of anonymity. Less than half of a $10 million credit facility provided by the fund had been tapped, the person said. The firm seized some of that and held some collateral, limiting potential losses, according to the person. Paul Scarpetta, a spokesman for Brigade at Sard Verbinnen & Co., declined to comment.
The arrest is the latest in a widening probe of alleged fraud in the ticket-resale industry. Carton, who has hosted the WFAN radio show with former NFL quarterback Boomer Esiason since 2007, is the biggest name implicated to date. Esiason isn't accused of wrongdoing. This winter, Carton's and Esiason's show ranked first in the New York area among men ages 25 to 53, according to Arbitron's winter ratings book.
Entertainers and lawmakers have been scrutinizing the ticket-reselling industry, a lightly regulated world where consumers are often scammed or misled. Last year, New York Attorney General Eric Schneiderman finished a three-year probe into concert and sports ticket resellers, promising to better protect consumers. Artists, including Bruce Springsteen, now use more rigorous verification methods to ensure that fans, not brokers, are able to purchase access to their shows. Many sports teams also limit access to their tickets.
Carton's accomplice in the ticket-resale scam was Michael Wright, 41, of Upper Saddle River, New Jersey, according to a criminal complaint filed in Manhattan federal court. Wright's the chief operating officer of S Group NYC, which operates the Sapphire strip clubs in Manhattan. The complaint also refers to a co-conspirator who isn't named.
The Securities and Exchange Commission on Wednesday also sued Carton and New York-based businessman Joseph Meli, 43, claiming he was involved in the fraud. That lawsuit also refers to an accomplice who was involved but not identified by the SEC. Meli was charged by prosecutors in January in a separate ticket-reselling fraud. He denies wrongdoing.
Mounting Debts
According to the government, the radio jock and the strip club operator were worried about their mounting debts in mid-2016, with Carton complaining that he owed about $2.5 million and a casino had frozen his account.
Around Sept. 2 of last year, the co-conspirator suggested the three get together and agree on a plan "to clean up the debt," according to a text message cited by prosecutors. Wright sent a Sept. 5 email that listed eight ideas for paying off the debt, but noted that: "Run to Costa Rica, change name, and start life all over again -- may not be an option."
Instead, the group ramped up a ticket-reselling scheme, for which Carton and the co-conspirator had already taken in $1 million from an individual investor, according to the complaint. "I would vote to bring in $$$ today to wipe out the debt that's due and to extend it to sell tickets," Carton emailed Wright and the co-conspirator on Sept. 7.
By December, Carton had an agreement from the hedge fund to provide $10 million in revolving credit to buy tickets. Carton provided fake documents, including contracts with a concert promoter for millions of dollars in tickets, and a phony email in which a sports and entertainment company agreed to sell $2 million of tickets to concerts, according to prosecutors.
Carton and Wright are charged with conspiracy, wire fraud and securities fraud. The fraud charges carry a maximum of 20 years in prison. Both men appeared in court Wednesday, dressed in shorts and t-shirts, and were released on $500,000 bond. Neither man nor their lawyers, responded to requests for comment outside court.
Ticket Sales
In an August interview with Newsday, Esiason said Carton's personality drove their show.
"Let him drive the narrative when it's negative or when it goes into any sort of impersonation, and let's play off of what he does, because he's very talented that way," Esiason told the newspaper. "I know he has got other issues, but the other issues are what make him who he is.
"He has ADD. He has a touch of Tourette's. He has restless leg syndrome, partially photographic memory. He can't sleep. That is what makes him the radio star that he is . . . Like any quarterback would on a football field, you recognize what people do well and try to get them the ball in that situation."
Carton, who titled his memoir "Loudmouth," and Esiason replaced Don Imus's morning show on WFAN on Sept. 4, 2007 after Imus lost his job for making a comment viewed as racist and sexist. Their "Boomer and Carton in the Morning" show has won praise from the likes of Jon Stewart and New Jersey Governor Chris Christie, who auditioned to host a WFAN show. Christie has said he's no longer pursuing the job.
Partner Arrested
This morning, Esiason spoke to Carton's arrest, according to the New York Post. "I thought he called in sick this morning, but unfortunately my partner was arrested," Esiason told listeners. "I guess there'll be more news to come from somewhere, but it won't come from me because I don't have any."
"We are aware of the situation and are cooperating with authorities," WFAN spokeswoman Jaime Saberito said in an emailed statement.
Meli was charged over the resale of tickets to the hit Broadway musical "Hamilton." Since then, prosecutors have expanded the case and now claim that he and another man, Steven Simmons, used a hedge fund, Sentinel Growth Fund Management, to scam millions of dollars from investors. A third man, Mark Varacchi, has pleaded guilty to fraud.
Several big names -- including billionaires Paul Tudor Jones and Michael Dell, as well as an executive at Och-Ziff Capital Management Group -- were among the more than 125 people who had unwittingly poured cash into the Hamilton scam, according to people with knowledge of the matter.
The SEC case is U.S. v Carton, 17-cv-6764, U.S. District Court, Southern District of New York (Manhattan).
— With assistance by Eben Novy-Williams
Before it's here, it's on the Bloomberg Terminal.
LEARN MORE