South Africa Welfare Minister Dlamini Wants Less Oversight
By
Dlamini describes committee requests to Sassa as 'onerous'

Government must change welfare payments provider by 2018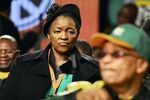 South African Minister of Social Development Bathabile Dlamini asked the parliamentary speaker to rein in "onerous" requests by a committee overseeing the state welfare agency's efforts to end a contract with Net1 UEPS Technologies Inc. to distribute the payments.
Dlamini said in a letter to parliamentary speaker Baleka Mbete that efforts to find a new payment system were at a "sensitive" stage and the Social Security Agency, known as Sassa, needs to finish its work "without compromise or perceived undue influence." She complained that the National Assembly Standing Committee on Public Accounts and the Portfolio Committee overlapped and constantly requested appearances by Sassa officials.
"I write to express my concern and seek your intervention in the manner in which the Standing Committee on Public Accounts is increasingly overstepping the boundaries of its mandate with regard to the work of the South African Social Security Agency," Dlamini said in a letter to Mbete on Sept. 4. "We are concerned about the onerous reporting requirements placed on Sassa officials who are called to appear almost every week."
The welfare agency, which oversees more than $11 billion in annual welfare payments to over 17 million recipients, has been the subject of concern since it failed to comply with a 2014 order to find a new welfare distributor. The Constitutional Court in March allowed a 12-month extension to the contract with Net1's Cash Paymaster Services, after earlier finding the deal was invalid and must be replaced. Net1 has also been criticized for how it allows deductions off social grants by companies offering services including loans.
The court also ordered Dlamini and Sassa to comply with various oversight processes including that they file reports on affidavits every three months setting out how they plan to ensure the successful payment of welfare grants under a different service provider by April 1. The next report is due to be filed on Sept. 15.
Net1 on Wednesday announced Customer Services Charters to oversee the way complaints about its services are handled.
— With assistance by Thembisile Dzonzi
Before it's here, it's on the Bloomberg Terminal.
LEARN MORE