Schaeuble Tells U.K. No 'Free Lunch' in Brexit Talks With Europe
By
Britain on 'learning curve,' German finance minister says

Backs EU Commission's stance in Brexit talks as appropriate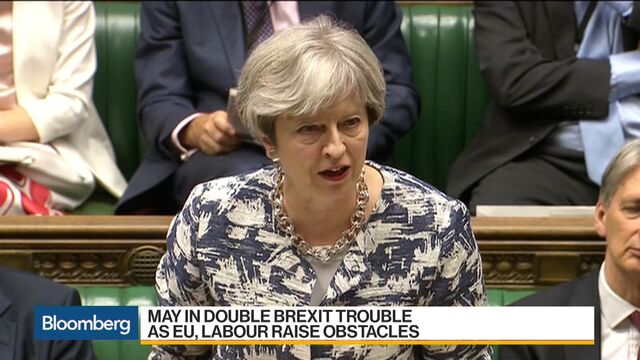 German Finance Minister Wolfgang Schaeuble said there's "no free lunch" in Brexit talks and that the reality of the divorce is sinking in among U.K. policy makers.
"Brexit was a decision that we think was wrong from every angle," Schaeuble told a conference in Frankfurt by video link on Wednesday. "But the Britons made it and now we must try to find solutions that will keep the damage to both sides as limited as possible."

Schaeuble's comments were the latest warning by European leaders after a round of Brexit talks in Brussels last week ended with U.K. and European Union negotiators deadlocked over the divorce bill. The EU's deputy Brexit envoy told German lawmakers this week she's skeptical that talks on a post-Brexit trade deal can start in October.
In Brussels, ambassadors of the 27 remaining EU countries met for only about five minutes on Wednesday to discuss Brexit, according to two participants, adding to signs that there's no sense of urgency in the bloc to reach a swift conclusion.
For a guide on German party positions and coalitions, click here.
"There is, I think, the beginning of a learning curve in the U.K.," Schaeuble said. "We shouldn't hamper the U.K.'s learning curve with provocation, but we should foster it with a clear, robust position, coupled with willingness to negotiate."
Schaeuble said Michel Barnier, the EU's chief Brexit negotiator, is handling the talks "very appropriately."
After the last round of Brexit talks, Barnier said there can be no ambiguity about leaving the EU's single market and "if that's what's been decided, there will be consequences." U.K. Brexit Secretary David Davis told Parliament in London that "nobody has ever promised this will be simple or easy."

While Schaeuble and Chancellor Angela Merkel have consistently said they regret the U.K.'s decision to leave the EU, they've made it clear that Germany's focus is on keeping the rest of the EU united. Brexit has hardly figured in the German election campaign, where all polls show Merkel's party bloc in the lead ahead of the vote on Sept. 24.
The EU's Brussels meeting on Brexit was mostly procedural and only confirmed there's little or no progress on the key issues that need to be resolved before trade talks begin, a participant said. The participants asked not to be named as meetings of the EU's so-called Committee of Permanent Representatives aren't public.
— With assistance by Nikos Chrysoloras, and Viktoria Dendrinou
Before it's here, it's on the Bloomberg Terminal.
LEARN MORE