Ryanair Scraps Two Cabin-Bag Rule as Thrifty Flyers Delay Planes
By
Passengers to be required to check-in 'wheelie' bag at gates

New luggage policy to cost Irish discounter 50 million euros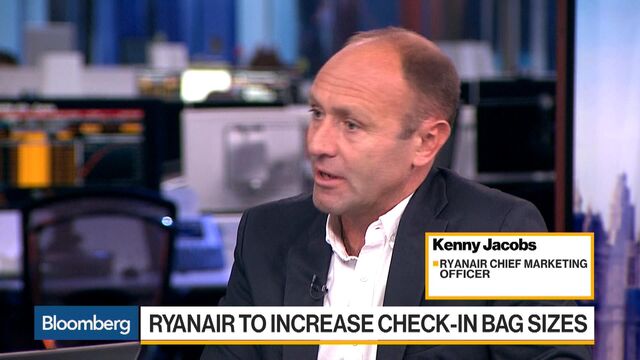 Ryanair Holdings Plc is rolling back its unusually generous carry-on policy after the budget airline's customers proved more penny-pinching than expected by cramming too many bags onto the planes and causing delays.
The Dublin-based carrier, which allowed two free bags in the cabin, will permit only one carry-on starting Nov. 1, with the second bag having to be checked in the hold. Only customers paying for "priority" tickets will get to take the second bag into the cabin.
"We have 182 people on average trying to get on our aircraft and a lot of them are bringing two big bags, and you simply can't get all those bags into the cabin of the aircraft," Chief Marketing Officer Kenny Jacobs said in a Bloomberg TV interview. "Something's gotta give."
Passengers will still be able to fly with two small bags free of charge, but will have to hand over one at the boarding gate for loading into the hold of its Boeing Co. 737 jets. The carrier is also cutting the price for checked-in luggage to 25 euros from 35 euros and increasing the weight allowance to 20 kilograms (44 pounds) from 15 kilograms. That's likely to lead to a 50 million-euro ($60 million) annual reduction in checked-bag fees, Jacobs said.
Ryanair, emerging from its key European summer period, has struggled to meet its 25-minute "turnaround" target to prepare planes for their next flight. Being able to fly aircraft more frequently is critical to the carrier's discount business model, helping it to keep fares below competitors.
The move brings the Irish airline closer to the likes of EasyJet Plc, which restricts customers to one cabin bag and requires passengers to fit smaller handbags and camera cases inside before boarding. Luton, England-based EasyJet last week introduced a new "hands-free" option, allowing customers to pay 4 euros to check cabin bags before passing through security.
Eastern European discounter Wizz Air Holdings Plc said in July it would scrap a policy of charging between 10 euros and 35 euros for standard-sized cabin luggage. Starting Oct. 29, passengers will be able to bring two bags on board without charge, similar to Ryanair's existing policy.
In recent years, Ryanair has instituted a more customer-friendly approach, which Chief Executive Officer Michael O'Leary credits with the carrier's rapid profit growth since 2014.
Before it's here, it's on the Bloomberg Terminal.
LEARN MORE