Merkel Faces Far-Right Protesters on Campaign Trail
By and
Chancellor confronts deafening calls to quit at Torgau rally

'No experiments' warning against coalition of the left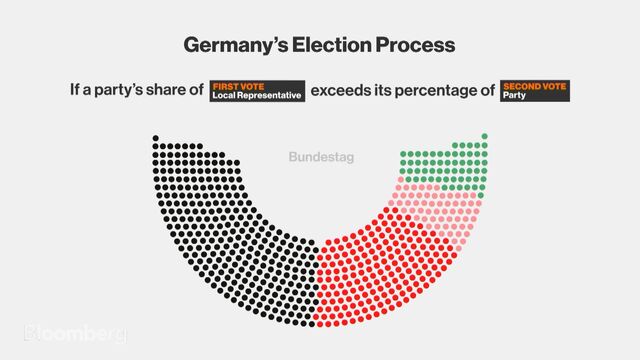 Chancellor Angela Merkel shouted "no experiments" at a rally buffeted by deafening right-wing protesters, urging voters to spurn splinter parties and prevent a coalition of the left taking power as Germany faces a growing series of global crises.
Speaking at a tumultuous campaign stop in Torgau, a town in the former communist east where U.S. and Soviet military forces met to shake hands in the waning days of World War II, the German leader's speech on Wednesday was nearly drowned out by demonstrators linked to the anti-immigration Alternative for Germany party, or AfD.
"Our country can afford no experiments -- and certainly not in the uneasy times in which we're living," Merkel told the crowd of about 2,000, including a clutch of several hundred protesters. "We need stability for the future -- and we need security."
A day after she was grazed by a tomato in southwestern Germany, Merkel confronted one of the rowdiest protests yet in a campaign in which she's grown accustomed to laboring through her stump speech. AfD-linked protesters, joined by many bearing signs from Germany's ultra-right National Democratic Party, shouted "Merkel must go" in chorus.
One sign read "Dump Merkel," wording that echoed comments made last week by an AfD candidate, Alexander Gauland, who said that the chancellor's integration minister, a German citizen with Turkish roots, should be "dumped in Anatolia." Merkel later condemned that attack as racist.
Poll Lead
Less than three weeks before the Sept. 24 contest, Merkel's Christian Democratic-led bloc maintained its support of 38 percent in a weekly Forsa poll, 15 points ahead of the Social Democrats under Martin Schulz. The AfD, which has been buoyed by its opposition to Merkel's open-border migration policy over the last two years, held steady at 9 percent support, the survey showed.
Merkel's use of the "no experiments" slogan echoes the campaign line used by her Christian Democratic Union in 1957. In that election, CDU Chancellor Konrad Adenauer won an absolute majority in the Bundestag, the only time a German political faction has done so since World War II.
Adenauer's warning 60 years ago was directed at the Social Democrats, and that was Merkel's message too. She cited the possibility of an SPD-led government with the environmentalist Greens and anti-capitalist Left party. The Forsa poll gave the three parties a combined 40 percent of the vote, well short of a majority.
Torgau is famous for "Elbe Day," the April 1945 meeting of Allied troops, memorialized by iconic photos of Soviet and American officers shaking hands, which signaled the closing days of the Third Reich under Adolf Hitler and the imminent division of Germany.
Before it's here, it's on the Bloomberg Terminal.
LEARN MORE