May Sends Company Chiefs Letter to Sign Praising Her Brexit Plan
By
Letter follows leaked immigration strategy that riled business

Missive would welcome May's plan for post-Brexit transition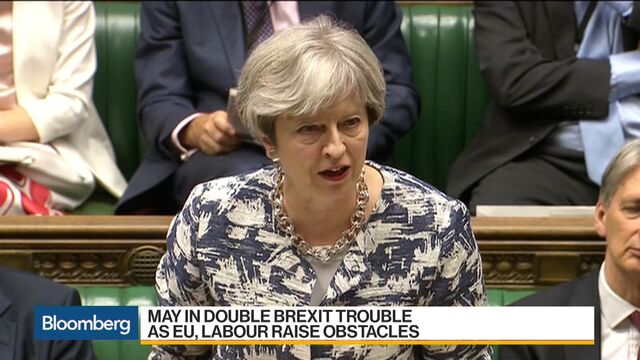 Prime Minister Theresa May's office distributed a letter to major U.K. companies for senior executives to sign praising her government's Brexit strategy, according to a draft seen by Bloomberg.
The letter, intended to be published in a U.K. newspaper, said that the government's repeal bill, due to be debated in Parliament on Thursday, would initiate a program of legislation to prepare Britain for life outside the European Union. Sky News television, which first reported the letter earlier Wednesday, said company chiefs expressed incredulity at being asked to sign.
"This is a good time for employers to work with government and Parliament to make a success of Brexit and secure a bright future for our country," the letter read. It also welcomed the government's commitment to securing a transition period "so that firms can ensure they are ready to adapt to the changing relationships and thrive under the new partnership being created with the EU." 
May is trying to win support for her Brexit program as divorce talks with Brussels remain deadlocked and after the main opposition Labour Party took a more confrontational line toward the government's strategy. The missive came to light a day after a leaked immigration paper from the government also raised the hackles of business. 
The Home Office document, leaked to the Guardian newspaper, set out measures to restrict immigration from the EU and prioritize British workers for jobs. The Institute of Directors, one of the country's main business lobby groups, objected to extra burdens it would impose on companies, while the Food and Drink Federation, whose members often use migrant labor, was also hostile.
Asked about the letter, May's spokesman, James Slack, told reporters in London: "I'd no more comment on leaked letters than on leaked immigration documents."
Sky cited one executive as telling the broadcaster there was no way they could sign the letter, given the current state of Brexit negotiations.
Before it's here, it's on the Bloomberg Terminal.
LEARN MORE