The Market's Long List of Worries Shrinks a Bit After Trump's Debt Deal
By
Debt-ceiling accord helps equities push toward record

Threats from hurricanes to North Korea remain in place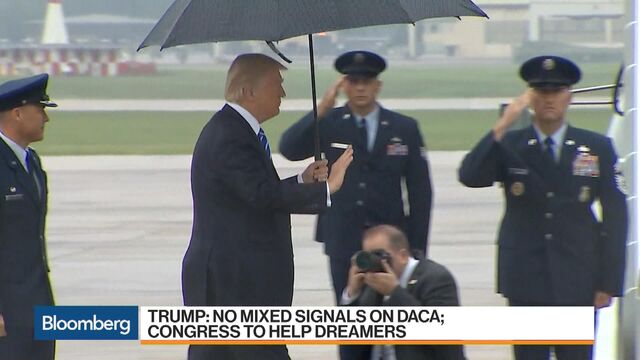 Investors just got what they wanted in the debt ceiling debate. Is it too much to say they had a hand in the outcome?
Who knows, but it's indisputable that a day after the Dow Jones Industrial Average slid 234 points, the president and congressional leaders agreed to a three-month extension of the borrowing limit. Equities dutifully rebounded.
Prospects markets would reprise their "vigilante" role of the 1990s were the subject of an Oct. 25 client note by Strategas Research co-founder Jason Trennert, who said Donald Trump's "obvious affinity for the Dow" could make equities a counterbalance in the funding debate.
"There's little question the president cares about the financial markets and I think he may view them as a more honest referendum on his policies," Trennert said by phone. "In that regard, it might have a greater impact on his policies and how he approaches the job. Whether good or not, he probably feels market prices reflect the collective wisdom of everyone."

Whatever the case, the roster of market obsessions, a list that also includes Hurricane Irma, North Korea and the Federal Reserve, just got a bit shorter. The Dow average gained 85 points, or 0.4 percent, to 21,838.27 as of 2:37 p.m. in New York, while the Nasdaq 100 added 0.4 percent and the Russell 2000 Index climbed 0.3 percent.
"This is a little check in the box that kicks the can down road for a few months," said Chad Morganlander, a Florham Park, New Jersey-based money manager at Stifel, Nicolaus & Co., which oversees $240 billion. "The real risk is not the debt ceiling but of course what happens with North Korea, what happens with trade relations with China -- the much larger, real economic issues that need to be resolved. And the likelihood of a massive tax or fiscal stimulus plan is also diminishing."
Before it's here, it's on the Bloomberg Terminal.
LEARN MORE