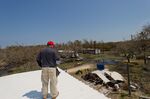 As Houston deals with Harvey's aftermath and Hurricane Irma swirls toward Florida's coast, it's worth keeping one thing in mind: there's a real divide in how people experience the fallout from natural disasters. 

People living in financially vulnerable areas are headed for a more difficult credit slog after the storm, based on new research from the Kansas City Federal Reserve. That's the kickoff study in this week's economic research wrap, which also looks at the outlook for immigration, marijuana across state lines and the costs of leaning against the wind with monetary policy. Check this column each week for new and interesting studies from around the world.  
Who hurricanes hurt
People who are better prepared financially for a natural disaster tend to have better financial outcomes, new research from the Kansas City Fed shows. For an area with a low share of unpaid bills, a Category 1 hurricane led to only a small drop in credit scores. For regions with a high share of unpaid bills, however, it shaved a whopping 81.2 points from a credit score. The median saw a decline of 46.4 points – enough to drop a score from around 700 to 650, which could result in significant changes in loan terms.  
Financial Vulnerability and Personal Finance Outcomes of  Natural Disasters
Published September 2017
Available on the Kansas City Fed website
U.S. immigration looks poised to stay low
Low-skill immigration has fallen off starting from around the Great Recession, and demographics suggest it isn't about to rebound, researchers at the University of California, San Diego show. That makes policies meant to curb migration largely symbolic. The future immigration of young low-skilled labor looks set to decline rapidly as Latin American countries experience slow labor force growth. "The policy dilemma facing the United States is thus not so much how to arrest massive increases in the supply of foreign labor, but rather how to prepare for a lower-immigration future," the authors write. 
The Rise and Fall of U.S. Low-Skilled Immigration
Published August 2017
Available on the NBER website
Getting a contact high
Oregon opened a recreational pot market in October 2015 and Washington, which had previously legalized marijuana, saw business plummet, especially for large quantities. The quantity of marijuana sold in Washington-Oregon border counties fell by 41 percent when Oregon's market opened, mostly driven by companies located within 25 miles of a border crossing – even as demand in the rest of the state went unchanged. The change in business suggests that 11.9 percent of the marijuana sold in Washington was diverted out of the state before Oregon legalized. 
How Extensive is Inter-State Diversion of Recreational Marijuana?
Published September 2017
Available on the NBER website
The cost central bankers forget about
Leaning against the wind – keeping monetary policy tighter for financial stability purposes – gets a lot of airtime in central banking discussions. The Fed says that it doesn't try to pop bubbles, but also says that it keeps a careful eye on financial conditions. Lest policy makers get too enthusiastic about excess-deflating, Lars Svensson at the Stockholm School of Economics has a message for them: the costs outweigh the benefits. In addition to the obvious downside of cooling growth during an expansion, Svensson says central bankers need to take into account that leaning against the wind leaves an economy on weaker footing if a crisis occurs. Once you take that into account, the benefits just aren't worth it. "Previous literature has disregarded the second cost," he writes. 
Leaning Against the Wind: The Role of Different Assumptions About the Costs
Published August 2017
Available on Svensson's website
Before it's here, it's on the Bloomberg Terminal.
LEARN MORE