House Passes Disaster-Relief Funds as Texas Flooding Costs Mount
By and
Senate considers adding debt-ceiling suspension to legislation

Democrats offer three-month plan that Ryan calls 'unworkable'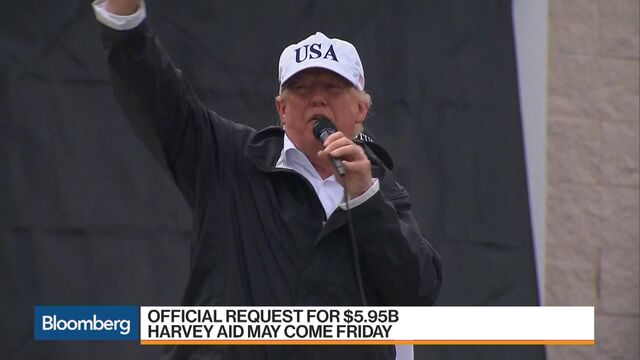 The House Wednesday passed $7.4 billion for a federal disaster-relief fund two days before it's set to run out as Senate GOP leaders plan to use the measure to suspend the nation's debt limit.
The bill, passed by the House 419-3, is designed to provide relief to tens of thousands of homeowners from flooding caused by Hurricane Harvey in Texas and other parts of the Gulf Coast. A more powerful storm is heading toward Florida, promising to increase demand for disaster funds.
Senate Republican leaders indicated they may use the Federal Emergency Management Agency funding measure to suspend the debt ceiling past the November 2018 elections. The House would then have to give final approval -- a move that would roil that chamber's most conservative members.
Democratic leaders in the House and Senate said they support a three-month extension, which could set up another showdown at the end of the year. House Speaker Paul Ryan of Wisconsin immediately shot down the proposal.
"I think it's ridiculous and disgraceful that they want to play politics with the debt ceiling," Ryan said. "It's unworkable" and could jeopardize the government's hurricane response. But some Republicans, including Appropriations Committee members Hal Rogers of Kentucky and Tom Cole of Oklahoma, said they wanted short-term action on the debt limit.
The initial bill before the House, H.R. 3672, only includes funds for FEMA and additional money for the Small Business Administration, despite a suggestion by Treasury Secretary Steven Mnuchin to include a debt-ceiling increase to prevent a U.S. default. 
"These are the president's immediate priorities: Pass disaster relief. Prevent a default. Fund the government," Senate Majority Leader Mitch McConnell of Kentucky said on the Senate floor Tuesday. "They are my immediate priorities as well. I'm sure colleagues feel the same. We have to get all three of these things done, and we have to do it very quickly."
Voting against the bill Wednesday were Republicans Justin Amash of Michigan, Andy Biggs of Arizona and Tom Massie of Kentucky. Amash said on Twitter that while he supports disaster-relief funding, "we should pay for it now instead of billing our children and grandchildren for it."
House Majority Leader Kevin McCarthy of California told reporters the House will vote on a combined Harvey aid-debt limit combination bill if the Senate sends it over. Still, a GOP aide who asked for anonymity said President Donald Trump may need to personally appeal to Republicans to get the bill passed.
Representative Phil Roe, a Tennessee Republican, told reporters, "we're not going to leave town until it's approved however it comes back" from the Senate.
Freedom Caucus
Most members of the conservative House Freedom Caucus oppose linking the aid and debt limit, Chairman Mark Meadows said after the group met privately Tuesday night. Still, he predicted that a linked bill "will probably pass."
Instead, said Meadows of North Carolina, the Freedom Caucus would back a bill raising the debt limit while attaching it to a cap on federal spending as a percentage of gross domestic product.
Freedom Caucus member Dave Brat of Virginia told reporters earlier Tuesday that the debt limit should only be linked to disaster funding if lawmakers agree to spending reductions.
"If Republicans don't fix it when we're in charge, who will?" he said of the national debt.
The $7.85 billion bill meets a White House request for $7.4 billion in disaster funds for FEMA and $450 million in funding for the SBA. An additional $6.7 billion in FEMA funding is to be provided through the stopgap spending bill and another infusion of aid is likely later in the year, according to House aides.
Some conservative groups, such as Heritage Action, support this disaster aid without spending offsets. That may help Ryan gain votes of conservative lawmakers when the legislation comes back from the Senate. Still, conservative groups like the Club for Growth oppose the initial package because it would add to the deficit. Both groups oppose linking the debt ceiling to disaster funds.
Mnuchin said Congress needs to raise the debt ceiling by Sept. 29. The White House request for Harvey aid sent Friday didn't explicitly call for an increase to be included in a disaster aid bill, but it hinted at doing so.
"Given the need for additional spending as a result of disaster response and initial recovery from Hurricane Harvey, the administration continues to urge the Congress to act expeditiously to ensure that the debt ceiling does not affect these critical response and recovery efforts," the White House request said.
— With assistance by Anna Edgerton, Terrence Dopp, and Arit John
Before it's here, it's on the Bloomberg Terminal.
LEARN MORE