Five Things You Need to Know to Start Your Day
Get caught up on what's moving markets.
By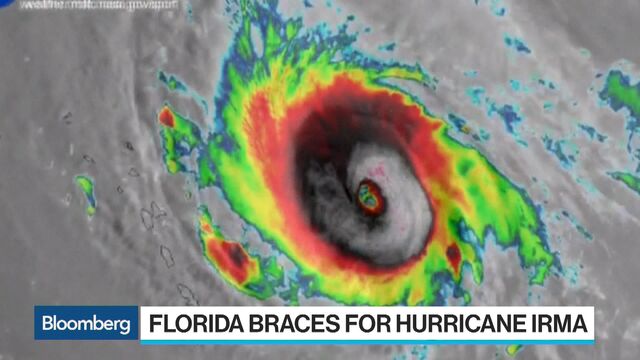 Want to receive this post in your inbox every morning? Sign up here.
Treasuries rally, Hurricane Irma looms, and a risk-off tone takes hold. Here are some of the things people in markets are talking about today.
Yields drop
U.S. Treasuries are holding steady after haven demand and dovish pronouncements from Federal Reserve officials spurred a sharp drop in 10-year yields on Tuesday to 2.0596 percent, the lowest since Nov. 10. Governor Lael Brainard said more progress is needed to achieve the Fed's inflation goal in order to justify another interest-rate increase. Minneapolis Fed President Neel Kashkari warned that the monetary-tightening cycle may have harmed the U.S. economy. Five-year inflation-protected Treasury yields also slipped into negative territory for the first time in nearly three months during yesterday's session, while the dollar tumbled.
Another hurricane
The most powerful storm to form in the open Atlantic Ocean, Hurricane Irma, could make landfall in Florida as early as this weekend, and its destructive potential may surpass Hurricane Katrina. News that the storm is headed for the third most-populous U.S. state sent cruise line and insurance stocks plunging, while natural gas slid, and orange juice, sugar and cotton surged. With Texas still reeling from Hurricane Harvey, the Federal Emergency Management Agency is expected to run out of money by the end of the week, according to a Senate aide, piling pressure on Congress to provide funding.
Debt-ceiling fears
Investors at the four-week Treasury-bill auction in Tuesday's session demanded the highest compensation since September 2008 to hedge against the risk politicians will fail to raise America's borrowing capacity before the U.S. reaches its debt limit. The Treasury sold $20 billion of four-week bills at 1.30 percent, a rate described by Thomas Simons at Jefferies LLC as "ghastly." Some House Republicans are considering suspending the debt ceiling altogether as part of the initial Hurricane Harvey disaster aid bill, according to two people familiar with the discussions.
Risk off
The looming hurricane, the debt-ceiling battle, and nuclear threats from North Korea have triggered a risk-off tone in global markets. The S&P 500 Index closed the session 0.8 percent lower, with futures on the bourse little changed this morning. The Stoxx Europe 600 Index retreated after most equities in Asia slid, while Japan's Topix index reversed earlier losses to end up 0.1 percent in the black. The euro shrugged off an unexpected drop in German factory orders. Spot gold was up almost a fifth of a percent at $1,340.19 per ounce.
Brexit barriers
U.K. Prime Minister Theresa May's Brexit strategy faced a double blow, after a top European Union official suggested trade talks are unlikely to commence next month, while the opposition Labour Party is preparing to block May's plan for a post-Brexit legal regime in London. The prime minister also suffered the leak of a draft plan for tough new immigration rules that would deter all but highly-skilled EU workers from entering the country after it exits the trading bloc, The Guardian reported. May has little room for maneuver: The U.K. economy is grappling with a continuing slowdown in services in consumer-facing sectors, while trade isn't boosting growth despite the protracted slump in the pound.
What we've been reading
This is what's caught our eye over the last 24 hours.
Before it's here, it's on the Bloomberg Terminal.
LEARN MORE