Facebook Found Election Ad Spending Likely Linked to Russia
By , , and
Facebook providing details to U.S. election investigators

Ads were meant to stir controversy over ideological issues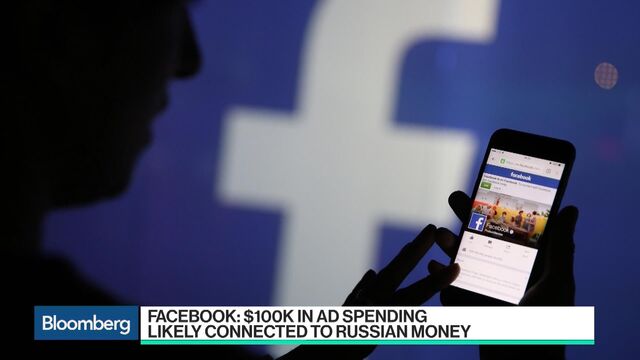 Facebook Inc. says it found about $100,000 in ad spending connected to fake accounts likely run from Russia that aimed to stir political controversy in the U.S. ahead of last year's presidential election.
While the majority of the ads, run between June 2015 and May 2017, didn't directly reference the election, they amplified "divisive social and political messages across the ideological spectrum," Facebook said in a statement. They were connected to about 470 fake accounts and pages on the social network. The company is sharing its findings with U.S. investigators.
"Our analysis suggests these accounts and Pages were affiliated with one another and likely operated out of Russia," Facebook Chief Security Officer Alex Stamos wrote. The group financing the ads is called the Internet Research Agency, a secretive company based out of St. Petersburg known for pushing Kremlin propaganda, according to a person familiar with the matter. The ads align with a broader strategy to misinform the public through a new category of attack Facebook calls "information operations," outlined in a white paper earlier this year.
The finding adds to evidence that Russian money was used to influence American politics, but doesn't go so far as to directly link it to government actors. While the amount of spending was small, it can go a long way on the social network. The $100,000 backed about 3,000 ads with the potential to reach millions of people, though Facebook didn't say how many people saw them. About a quarter of the ads were geographically targeted, touching on divisive topics such as race, immigration, gay rights and guns, the company said.
Accounts Deleted
Facebook has deleted the accounts and pages since it discovered them, and has been working on technology to prevent such coordinated campaigns in the future. The company also looked for other ads that may have originated in Russia, in a broader search that included U.S. computers with the language set to Russian. In that review, the company found $50,000 spent on 2,200 ads that were potentially political.
Russia's meddling in the presidential election became a central focus of U.S. intelligence agencies in the second half of 2016. In January, the nation's top intelligence agencies published a report saying that Russia interfered in the election to discredit Hillary Clinton and boost Donald Trump, who has often appeared reluctant to embrace the findings.
For more on Facebook and the U.S. election, check out Decrypted:
"It certainly adds additional insights in terms of one of the Russian modalities of influence in our election," said California's Adam Schiff, the top Democrat on the House Intelligence Committee, which was briefed on Facebook's findings.
"There's still a lot questions we have in terms of the potential targeting of those ads, as well as whether there was any coordination with the campaign in the Russians' use of social media," he added, referring to inquiries into whether anyone close to Trump colluded with Russia. "Those are still very much within the subject of the investigation. I don't think we've reached any conclusion."
Legality in Question
It's illegal for foreign individuals or governments to make contributions to candidates in American elections and to spend money advocating for one candidate over another, according to Richard Hasen, an election law expert at the University of California, Irvine. 
If the Facebook ad spending was done "completely independently of any campaign" and didn't express any advocacy or didn't pursue TV or radio ads, which have restrictions, "then it may not be illegal," he said. 
"If, as some people have alleged, the Trump campaign coordinated with the Russian government as to the placement of ads, using data that Trump's campaign collected, that would be clearly illegal," he added. But there's no evidence of that based on the information Facebook released Wednesday, he stressed.
Mueller's Probe
Russia's role and any connections to President Trump's administration have been the subject of wide-ranging probes by special counsel Robert Mueller and multiple congressional committees. Mueller was named to the post after Trump fired former FBI Director James Comey, who had led the Russia investigation, in May. Mueller declined to comment Wednesday on the Facebook announcement, according to spokesman Peter Carr.
Even before election day, U.S. intelligence officials and private sector cybercrime experts warned that hackers, believed to be from Russia, had broken into computers at the Democratic National Committee, and used the pilfered emails and other documents to spread damaging information about Democratic nominee Clinton.
U.S. law enforcement authorities also warned in the weeks before the election that hackers had been attempting to breach computers holding voting records in more than a dozen US states. Bloomberg News reported in June that the effort was far more widespread, with Russian hackers hitting voting systems in 39 states before the election. More recent coordinated online political attacks suggest pro-Russian bots are gearing up for the 2018 congressional elections.
Top Russian officials, including President Vladimir Putin, have repeatedly rejected accusations the country meddled in the U.S. election. Putin told NBC News in June that there's "no proof" of any involvement by Russia at the "state level." The Russian embassy didn't immediately respond to a request for comment on Wednesday afternoon.
In January, after Trump's surprise victory, U.S. intelligence agencies released a declassified assessment that Russia's Putin had authorized a wide-ranging effort to help the Trump campaign, employing everything from traditional spycraft to digital assets like hackers and paid bloggers to spread pro-Trump messages online.
The drumbeat of news about Russia's role in the election has only helped push relations with the U.S. to post-Cold War lows.
— With assistance by Nick Wadhams, Billy House, and Chris Strohm
Before it's here, it's on the Bloomberg Terminal.
LEARN MORE