It's Time for Draghi to Talk About the Elephant in the Room
By and
Governing Council concludes two-day policy meeting on Thursday

ECB president will brief media at 2:30 p.m. in Frankfurt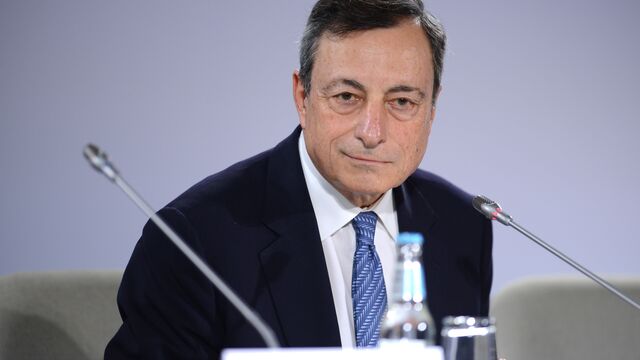 Mario Draghi is finally having the talk he has long sought to avoid.
The European Central Bank president opened a debate about the future path of stimulus on Wednesday after the Governing Council was presented with various scenarios for winding down asset purchases, according to people familiar with the matter. 
For months, Draghi put off a discussion, concerned about low inflation and wary of market turmoil at any hint of an exit. Now, as the risk increases that leaving a decision too late makes investors jumpy, the challenge is to find a way to begin dialing down quantitative easing while providing assurance that any moves will be gradual.
In starting the debate on policy normalization, Draghi followed through on a July pledge to start talks in the fall. Still a formal announcement on the next step may not come before the October meeting.
"They are entering a decision-making phase," said Bjoern Eberhardt, head of global macro analysis at Credit Suisse in Zurich. "There are a lot of aspects that need to be looked at -- there's also the problem of bond scarcity, which will become an issue towards the middle of next year."
At the Federal Reserve, Janet Yellen has already put the central bank on a tightening cycle by raising interest rates. Ahead of a Sept. 19-20 meeting, uncertainty about U.S. policy makers' plans to unwind their $4.5 trillion balance sheet is adding downward pressure on the dollar, which would be exacerbated by a tapering signal from the ECB.
Governing Council members already sounded the alarm at the threat of an appreciating euro at their last policy meeting in July and have repeatedly expressed concern about excessive exchange-rate volatility.
The ECB will announce its decisions on interest rates and asset purchases at 1:45 p.m. Frankfurt time on Thursday. With economists predicting no change in those instruments, the focus will be on any alteration to forward guidance. Draghi will speak to reporters 45 minutes later, when he'll elaborate on the decision and reveal updated economic forecasts.
Click here for more on the ECB's discussion and the staff projections
Those forecasts will bear good news as far as the economic recovery is concerned. The currency bloc is poised for the fastest expansion in a decade, unemployment is dropping more rapidly than expected and confidence is near pre-crisis levels.

Yet, inflation is struggling to follow the upswing. At 1.5 percent in August, that's still short of the central bank's goal of just under 2 percent, and neither underlying price pressures nor wages are showing much of a pickup.

One particular area of concern is the exchange rate. The euro's gain of almost 6 percent this year in trade-weighted terms, and more than 13 percent against the dollar, puts downward pressure on inflation and also threatens to weigh on exports. The single currency was up 0.2 percent at 9:14 a.m. Frankfurt time, trading at $1.1939.
While economists surveyed by Bloomberg remain reasonably confident on the growth outlook, half of them foresee downward revisions to the ECB's price outlook for next year.

Draghi has so far stuck to his mantra that the ECB needs to be "patient" and "persistent" in its policies. He made nearly no reference to future monetary policy in his two public appearances over the summer. Even then, the euro briefly spiked above $1.20 when he spoke at the U.S. Federal Reserve's symposium in Jackson Hole -- investors interpreted his silence on the currency's gains as tacit approval.

Ahead of the Governing Council's meeting, policy makers were presented with documents outlining options for adjusting QE, according to people familiar with the process. The papers were put together by the ECB's technical committees and include different combinations for the size and duration of asset purchases, the people said.
How Do Central Banks Shrink Their Balance Sheets?: QuickTake Q&A
For many economists, the central bank has little choice but to slow buying next year -- simply because it'll soon run out of bonds. Holdings are scheduled to reach nearly 2.3 trillion euros by the end of the year, equivalent to almost a quarter of the bloc's annual output.
Policy makers have countered that neither the central bank's resolve nor its scope to adjust the parameters of QE should be underestimated. 
"The question is whether a shortage of bonds in some markets will turn into outright scarcity, and how best to address this problem," said Marchel Alexandrovich, an economist at Jefferies in London. "Given that some 'soft' adjustments of the program have already been taking place and markets have not taken much notice, this should give the ECB reassurance that perhaps this is the way to carry on in 2018."
Before it's here, it's on the Bloomberg Terminal.
LEARN MORE