Deutsche Bank's Cryan Sees Increasing Signs of Asset Bubbles
By and
Cryan says bank is at a disadvantage to U.S. banks on rates

Cites stock market and real estate, declines in volatility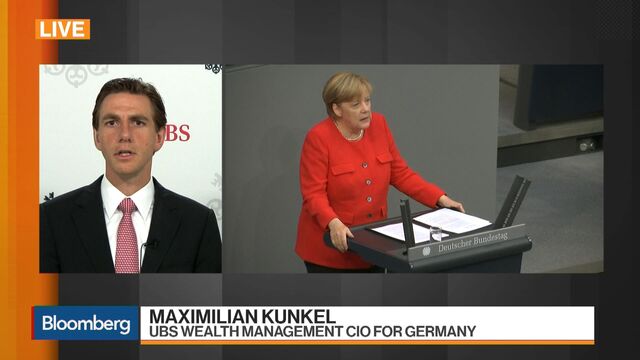 Deutsche Bank Chief Executive Officer John Cryan called for an end to the era of cheap money in Europe, saying that the prolonged period of rock-bottom interest rates is starting to inflate asset bubbles and putting the bank at a disadvantage to U.S. rivals.
Cryan, speaking at a conference in Frankfurt, said the continent should "wave goodbye" to loose monetary policy because while it helped banks, financial markets and individual countries emerge from the financial crisis, it's now causing "ever greater upheaval." That's reflected in sovereign bond and high-risk bond yields being close to historically low levels as well as real estate prices in the Group of Seven countries near record highs and low market volatility, he said.
"We are now seeing signs of bubbles in more and more parts of the capital market where we wouldn't have expected them," Cryan said, adding that the interest-rate policy has been partly responsible for the decline in earnings at European banks. "I welcome the recent announcement by the Federal Reserve and now also from the ECB that they intend to gradually bring their loose monetary policy to an end."
Low and even negative rates since the financial crisis have stoked demand for stocks and other assets from yield-hungry investors, while the European Central Bank charges banks for deposits. ECB President Mario Draghi said in July that the bank plans to take a decision on paring back stimulus in the fall and stressed the need to see inflation on a self-sustained path toward 2 percent. In the U.S., by contrast, policy makers are further ahead, having already made two interest rate increases this year and debating a third.
'Competitive Advantage'
"U.S. banks enjoy a competitive advantage due to the local interest rate environment," Cryan said. "In the first half of 2017 alone the net interest income of U.S. banks rose by eight percent, in Europe it fell by two percent. We at Deutsche Bank had access to over 285 billion euros of liquidity at the end of the second quarter, because we are now receiving huge cash inflows. This money, which actually constitutes the strength of a bank, is costing us penalty interest."
By charging for idle cash, the ECB has sought to reduce market borrowing costs and encourage lending. Banks can't easily pass the cost onto retail clients for fear that they'll withdraw their savings, which are a crucial source of funding and make up the bulk of deposits. That erodes banks' main profit driver, the gap between their cost of funding and their revenue from lending. The further rates fall, the greater the pressure.
The situation has put bankers in the unusual position of turning away funds or passing on the costs. UBS Group AG is charging clients with a high concentration of euro deposits, causing some to take out their money or invest it with the bank, according to comments during the bank's second quarter earnings call in July.
Cryan also said that the continent's number of banks needs to shrink. "Sadly, little has happened in Germany," he said. "Consolidation is continuing at a low pace, especially across borders." He joins other top European bankers calling for deals. Credit Suisse chairman Urs Rohner said Tuesday at a conference in Zurich that there have been basically no cross-border deals since the financial crisis because of the various regulatory hurdles.
— With assistance by Patrick Winters
Before it's here, it's on the Bloomberg Terminal.
LEARN MORE