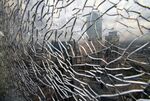 Investors are starting to get worried about the $7.2 trillion U.S. investment-grade bond market.
Yes, they are still pouring money into this debt and accepting near-record low yields to own it. But look a little closer and it's clear these bond buyers are starting to show some signs of unease. Traders are increasingly turning to derivatives to hedge against potential losses. This is a marked shift from earlier in the year, when many bond investors seemed unwilling to give up any returns for such protection. During most of 2017, trading volumes in credit-default swaps sagged well below recent years' averages. 

Now, however, activity in the derivatives has risen sharply, with volumes surging more than 110 percent in the week ended Aug. 11 compared with the same week in 2016. That contrasts with a more than 10 percent decline in volumes on average throughout 2017 compared with the period last year.

While volumes alone don't determine whether traders are actually becoming more bearish, analysts are interpreting this surge as a sign of investor caution.

"This is often a leading indicator of potential weakness," Peter Tchir, head of macro strategy at Brean Capital LLC, said on Bloomberg Radio on Tuesday. Investors don't want to sell their corporate-bond holdings because they know it could be difficult to buy them back in the future. But they are are feeling less secure owning the debt, especially at such high valuations. So they're either getting exposure to the securities in a way that's easy to exit quickly in a pinch, or they're paying a premium to cover any losses incurred during a selloff. 
Indeed, investors are earning yields of less than 3 percent on average to own investment-grade corporate bonds compared with nearly 5 percent yields over the past two decades. Not only that, but the debt has become riskier in some respects. It is more vulnerable to losses if benchmark borrowing costs rise, its average maturity has been lengthening and lower-rated bonds account for a growing proportion of the market. 

Of course, this has been the case for a while and these securities have remained a haven, delivering more than 6 percent annualized returns since 2008, according to Bloomberg Barclays index data. Even the prices on these derivatives don't seem to suggest that investors are preparing for a full-out market swoon, or even partial one.

But with Hurricane Irma heading toward Florida, poised to cause more damage than possibly even Hurricane Katrina, and squabbling in Washington over even the most basic issues, it's easy to see why investors are starting to get a bit uneasy. There are, of course, also escalating fear about tensions with North Korea, which easily could worsen trade relations between the U.S. and China, leading to a dent in the economy. 

"There are events on the horizon that could cause a dislocation," said Anindya Basu, a credit derivatives strategist at Citigroup Inc. "You're seeing that feed through to the market."

Right now, any jitters has only helped top-rated bonds, with investors piling into them as refuge from geopolitical and natural storms. But clearly some investors are preparing for that to change.
Before it's here, it's on the Bloomberg Terminal.
LEARN MORE