These Are China's Shadow-Lending Hotspots
Bloomberg News
Highest concentration of shadow loans is in Liaoning: UBS

UBS's Jason Bedford analyzed 237 Chinese banks for report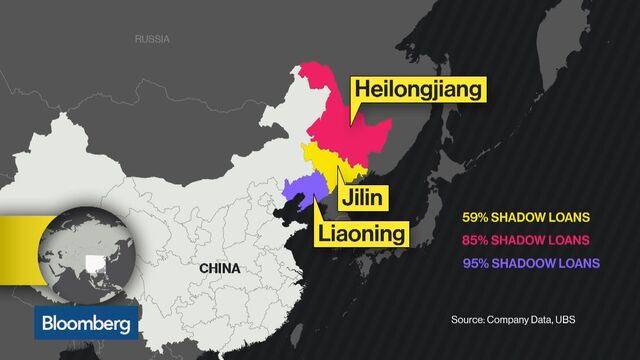 The highest concentration of shadow loans in China is to be found in its slowest-growing province, a study by UBS Group AG shows.
The value of shadow loans extended by regional banks in Liaoning, in the northeastern rust-belt region, amounted to 95 percent of their total lending in 2016, according to estimates provided to Bloomberg by UBS analyst Jason Bedford. 
Lenders in Liaoning have turned to informal banking arrangements to help them get around rules that restrict them from making traditional loans outside their home province. Shadow banking products allow them to invest in loans extended by banks in more prosperous regions to higher-quality borrowers.

"In weaker economies, you would really have dual considerations," Bedford said in an email. "On one side, and more benignly, banks are seeking credit exposures outside their home province by buying up loans of banks in other regions. On the other hand, rolling over credit to a company with two years of consecutive losses can actually be very difficult insofar as we are talking about formal loans. Loans classified as investments can be rolled over much more seamlessly."
Bedford issued a report on Aug. 23 detailing his analysis of 237 Chinese lenders, many of them small and unlisted regional firms.
Shadow loans, in the form of trust beneficiary rights and directional asset-management plans, grew almost 15 percent to 14.1 trillion yuan ($2.2 trillion) by December from a year earlier, equal to about 19 percent of economic output, according to Bedford. Risks associated with that growth have helped fuel the government's drive this year to curb financial leverage.

Exposures are greatest in China's rust belt, the once-proud steel and metal-producing provinces in the country's northeast, which have declined in growth and importance as the government shifts its economic focus away from industrial output to the higher-end consumer and services industries.
Banks in Heilongjiang province -- deep in the country's industrial heartland -- have shadow loan books equal to 85 percent of the value of their regular loans, according to Bedford's analysis. Lenders in neighboring Jilin province are at 59 percent.
Liaoning's Bank of Jinzhou Co. had shadow loans valued at 283.6 billion yuan -- equal to 224 percent of its regular loan book, according to the analyst. That was the second-highest proportion after Bank of Tangshan Co. Calls to Bank of Jinzhou's board office went unanswered, nor was there any response to an email seeking comment.

The economy of Liaoning, which is home to industrial companies such as Dongbei Special Steel Group and Angang Steel Co., once boasted annual expansion rates in the low-teen percentages, helping to fuel national growth that regularly topped 10 percent in the first decade of this millennium.
As the government switched its growth focus, Liaoning's heavy industrial output weakened. What's more, it was revealed earlier this year that some provincial officials had faked economic figures from 2011 to 2014. With officials now compelled to report more accurately, most recent numbers show that Liaoning's economy grew just 2.1 percent in the second quarter of the year, the least of 31 regions, data compiled by Bloomberg show.
Read more: On why 2019 could be the year China's GDP statistics finally add up
Corporate defaults in the province have become more apparent. Companies headquartered in Liaoning, as well as in Shandong, were responsible for the lion's share of defaults in China this year through April.
Some investors, including holders of Dongbei Special Steel bonds, are bracing themselves for the possibility they may not get all their money back. The state-backed steel mill is in the midst of a debt restructuring.
— With assistance by Alfred Liu, Jun Luo, and Hannah Dormido
Before it's here, it's on the Bloomberg Terminal.
LEARN MORE