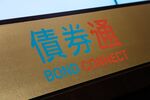 With its sweet yields rendered even more seductive by a strengthening yuan, China's two-month-old Bond Connect has already earned a bit of a reputation as the siren song of the year for global investors. There are two ways to savor the allure, depending on whether you take your cues from a former Citigroup Inc. banker or a legendary Greek king of Ithaca.
Citigroup CEO Chuck Prince used liquidity to gauge how deeply one could dally with credit risk, and for how long. "As long as the music is playing, you've got to get up and dance," he told the Financial Times in July 2007. "We're still dancing." That would have sounded dodgy to Odysseus. He, too, wanted to enjoy the music -- and did -- but only after chaining himself to a mast of safety, and telling his soldiers (read, risk officers) not to cut him any slack even if he begged.
Given China's debt-to-GDP ratio of 260 percent, which Bloomberg Intelligence expects to balloon to close to 320 percent by 2021, fixed-income investors are better off taking a leaf from Odysseus's playbook.
Foreign ownership of mainland bonds rose by an average of 27 billion yuan ($4.1 billion) in July and August, almost double the pace of the 12 months prior, attesting to Bond Connect's popularity. 1 The courtship can only blossom, as hedging avenues become available and niggling tax issues get resolved.
But which temptations to avoid? Warut Promboon, managing partner at Bondcritic, has a simple recommendation: Stick with Chinese government bonds, and notes issued by policy banks (China Development Bank Corp., Agricultural Development Bank of China and Export-Import Bank of China) and top commercial banks (Bank of China Ltd., Industrial & Commercial Bank of China Ltd., China Construction Bank Corp. and Agricultural Bank of China Ltd.).

That's the cream of the crop, and limits the playing field rather considerably. Within this narrow category, there's not much compensation for taking duration risk. The extra spread on holding a 10-year Chinese government bond versus a three-year risk-free note was 26 basis points in December; that's now down to 11.

However, even as the yield curve flattens, it's also shifting higher as authorities squeeze liquidity to force a bloated corporate sector to deleverage. Rajeev De Mello at Schroder Investment Management Ltd. in Singapore finds it interesting that Chinese yields have risen over the past couple of months at a time when global yields have declined. While this disconnect may have helped the early success of Bond Connect, investors should be more cautious than greedy.
That's because Chinese yields are rising just as producer-price inflation slows, pushing up the cost of capital for mainland firms in real terms and crimping their debt-servicing capacity.
The risk-reward dynamics could get tricky. Now that the collateral requirements for eligibility in repurchase or repo deals have been stiffened, China's domestic credit rating agencies will be encouraged to "produce even more AAA ratings," Warut, a former chief credit officer at the Hong Kong unit of Dagong Global Credit Rating Co., wrote in a note on research website Smartkarma.

Most investors are staying tied to the mast: 95 percent of foreign holdings of Chinese debt is in high-quality government or policy bank bonds, according to Melody Jiang and Sean Yokota, fixed-income strategists at Skandinaviska Enskilda Banken AB's Singapore branch. Foreigners want to see more independent ratings before they buy the riskier corporate notes, they say. Considering what a big help the three global ratings firms were in preventing the subprime crisis, going too far down the credit chain on their advice may also be a mistake.
Besides, investors still have to decide what to do with the currency risk: keep the yuan exposure or hedge it? To an extent, that answer depends partly on what happens with the dollar, which in turn depends on Kim Jong Un and Donald Trump.
Now isn't really the time to bring out those dancing shoes.
Before it's here, it's on the Bloomberg Terminal.
LEARN MORE