Caribbean Islands Locked Down as 'Monstrous' Hurricane Nears
By
Antigua & Barbuda braced for major damage on Tuesday night

Irma comes less than a year after Hurricane Matthew killed 600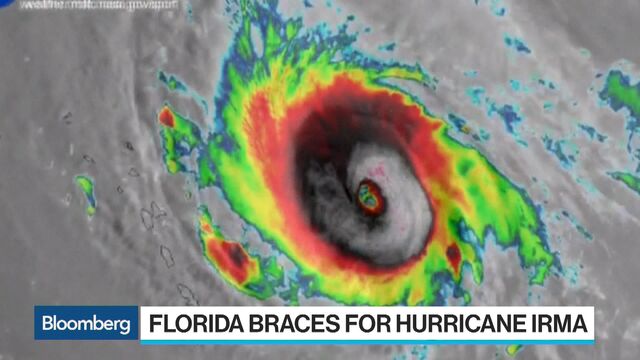 The tiny Caribbean islands first in line to receive the brunt of Hurricane Irma's potentially catastrophic winds and rainfall went into lock down Tuesday night, preparing for the biggest storm in decades. 
Irma, a category 5 storm, is expected to batter a dozen small islands overnight with winds of 185 miles per hour, as much as 20 inches of rain and a storm surge the National Hurricane Center warned is potentially "life threatening." Officials prepared emergency shelters, shuttered airports, and ordered residents to take stay off the streets Tuesday.
"The Caribbean has not seen anything as monstrous as this storm for some time," said Antigua and Barbuda Prime Minister Gaston Browne, in a phone interview hours before the storm was forecast to hit. "This will surely rank among the top 5 of all time when everything is said and done."
Browne, who spent most of the day addressing the country's 100,000 residents by radio and television, said the storm is certain to cause serious damage, including to the vital tourism sector. Natural disasters in the region cause damage equal to about 2 percent of gross domestic product every year, according to Moody's Investors Service, putting added fiscal pressures on governments already carrying among the highest debt loads in the world.
"We can't afford the storm, we can't afford any negative impact from the storm, because we are still in reconstruction mode post tropical storm Erika, and we all know of the tremendous cost of association with this reconstruction," said Dominica PM Roosevelt Skerrit on Monday, referring to a 2015 storm.
With Irma expected to start hitting the islands around midnight, officials said they were waiting and praying.
"The winds are slowly picking up," said Raja Kadri, economic adviser in Montserrat, a tiny island of 5,000 people that was devastated by volcanic eruptions in the 1990s. "You can sense that eerie calm."
The last category 5 storm to hit the region came less than a year ago when Hurricane Matthew killed more than 600 people, mostly in Haiti, and caused more than $15 billion in damages.
Before it's here, it's on the Bloomberg Terminal.
LEARN MORE