Bankrupt Puerto Rico Set for Fresh Hit From Hurricane Irma
By and
Storm nearing cash-strapped U.S. territory of 3.5 million

U.S. Virgin Islands in danger of defaulting, analyst says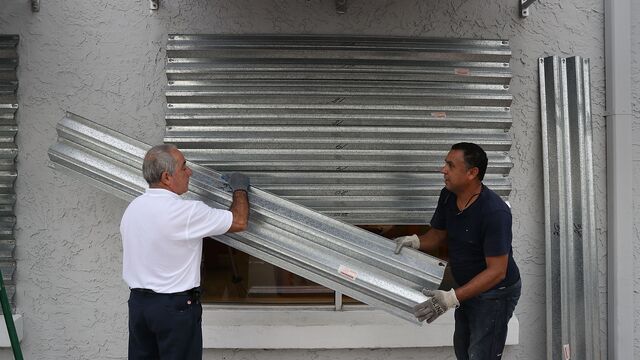 Puerto Rico, already dealing with a financial disaster, is about to be hit with a natural one.
Hurricane Irma is barreling toward the U.S. territory of 3.5 million residents, raising the prospect of costly damage to a poverty-wracked island that collapsed into a record-setting bankruptcy in May. The storm is expected to pass near or just north of Puerto Rico later Wednesday.
The head of Puerto Rico's electric company warned some areas could face electricity outages for months. And a devastating blow could accelerate the dramatic population loss that's driven Puerto Rico's long economic contraction, said Matt Fabian, a partner with Municipal Market Analytics.
"After 10 years of a recession, the island is not at all prepared for a disaster like Irma," Fabian said. "And Irma may permanently shrink Puerto Rico and push the island even deeper into poverty."

The storm, with winds of as much as 185 miles (300 kilometers) per hour, is set to pummel Puerto Rico less than two weeks after Hurricane Harvey led to the devastating flooding of Houston. With the Federal Emergency Management Agency at risk of running out of cash this week, the U.S. House of Representatives on Wednesday approved spending $7.4 billion to replenish its relief fund.
Puerto Rico has little ability to cope with a disaster on its own. Its finances are already being overseen by a federal board, and the central government filed for bankruptcy protection in May after years of borrowing pushed it to the brink. Its electric company, struggling to modernize, followed suit. Puerto Rico's emergency fund has about $35 million, even with a $15 million increase in the most recent budget, Governor Ricardo Rossello said this week.
President Donald Trump Tuesday approved Rossello's emergency declaration for the island. The U.S. board that's overseeing Puerto Rico's finances has reached out to federal officials to accelerate loans and grants.
Puerto Rico bonds edged lower as the hurricane made its way through the Caribbean. General obligations maturing in 2035 changed hands Wednesday at an average 56.8 cents on the dollar, down from about 57 cents the day before, data compiled by Bloomberg show. Puerto Rico has already defaulted on the securities, leaving creditors facing months of wrangling in court over how much they'll be paid.
Prone to Disruptions
The head of the Puerto Rico Electric Power Authority, the island's government-run power utility, warned of potential blackouts and reduced service for four to six months for some parts of the island. The agency's median plant age is 44 years, compared with an industry average of 18 years, leaving it already prone to disruptions.
"Assuming the storm hits as is being forecast, some areas will have service back within a week," Ricardo Ramos, Prepa's chief executive officer, said in a radio interview. "But for the entire system to be restored we're talking about four to six months."
There's also the risk that those displaced by the storm won't return. Puerto Rico has lost more than 400,000 residents since 2000, as people move to the U.S. mainland to look for work. The 9.8 percent unemployment rate is more than double the national average and about half of its citizens live in poverty.
The neighboring U.S. Virgin Islands, which is already contending with strains similar to those that led to Puerto Rico's unraveling, is also in the storm's path. If dire enough, Irma could lead that territory to also petition Congress for the right to file for bankruptcy, Fabian said. The island has about $2 billion in tax-supported debt, which has been cut deeply into junk grade because of the risk of a default.
"This could absolutely be the catalyst for the Virgin Islands to default," Fabian said. "It's going to disrupt financial operations on the island via the collection of tax receipts and economic activity."
— With assistance by Stephen Merelman
Before it's here, it's on the Bloomberg Terminal.
LEARN MORE