Australia's Economy Expands Slower Than Forecast; Currency Drops
By
Exports among biggest contributors to second-quarter growth

Household savings ratio slumps to 4.6% from revised 5.3%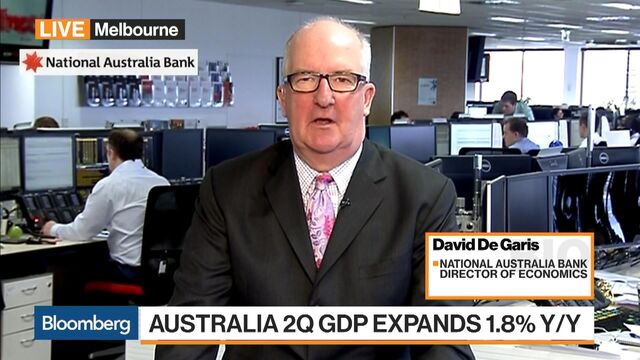 Australia's economy expanded slower than forecast last quarter as a slump in non-residential construction partly offset higher household and government spending. The currency fell.
Key Points
Gross domestic product rose 0.8% from prior quarter; economists estimated 0.9% gain
Economy grew 1.8% from a year earlier, compared with forecast 1.9% expansion
Household savings ratio was 4.6%; household spending rose 0.7% q/q
Aussie dollar bought 79.94 U.S. cents at 12:43 p.m. in Sydney, compared with 80.17 cents before report
Big Picture
The quarterly growth -- marking 26 years without a recession -- conforms with the Reserve Bank of Australia's view of an economy gradually picking up speed over the coming year. The central bank has kept interest rates at a record-low 1.5 percent for the past 13 months to spur a transition away from mining investment and toward services and manufacturing as growth drivers. 
Higher exports combined with a surge in full-time hiring and a better investment outlook, suggests the post-mining slowdown is moving into history. Yet the downside is poor consumer sentiment as households remain mired in debt and wages are stagnant or even going backwards. That puts a cloud over future consumption, which accounts for more than half of GDP.

Economist Takeaways

The result "overstates the health of the economy as it needs to be taken in context of the weak 0.3 quarter-on-quarter rise in the first quarter," said Paul Dales at Capital Economics Ltd. "The rebounds in both consumption and dwellings investment didn't reverse all of the previous weakness, which supports our view that more fundamental factors will continue to weigh on these areas over the next couple of years."
"On the surface today's numbers are solid," said Gareth Aird at Commonwealth Bank of Australia. But "weak household income growth continues to weigh on the consumer. And flat real wages growth indicates that workers are not sharing the productivity dividend that is evident in positive GDP per capita growth. As a result, the disparity between consumer and business confidence is likely to persist."
Other Details
Wednesday's report showed exports advanced 2.7 percent from three months earlier, adding 0.6 percentage point to growth
Household spending climbed 0.7 percent to add 0.4 point; government spending advanced 1.2 percent -- including cash going into infrastructure -- contributing 0.2 point to growth
The nation's savings ratio slid to 4.6 percent in the second quarter from a revised 5.3 percent in the first three months
Non-residential construction slumped 7.7 percent, subtracting 0.4 point; inventories detracted 0.6 point from growth
Before it's here, it's on the Bloomberg Terminal.
LEARN MORE