Angola's Ruling Party Wins Election With Over 60 Percent of Vote
By
Incoming President Joao Lourenco to be sworn in on Sept. 21

National electoral commission confirms provisional results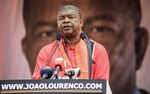 Angola's ruling party won elections on Aug. 23 with 61 percent of the vote, the electoral commission said in an announcement of the final results.
The Popular Movement for the Liberation of Angola will get 150 seats in the 220-member legislature and its presidential candidate, Joao Lourenco, will replace outgoing President Jose Eduardo dos Santos, who is stepping down after 38 years in power. The outcome is the same as the provisional results that were published on Aug. 25.
The main opposition party, the National Union for the Total Independence of Angola, or Unita, won 27 percent and will have 51 seats in parliament, electoral commission chairman Andre da Silva Neto told reporters on Wednesday. The Broad Consensus for Angolan Salvation-Electoral Coalition party, the second-biggest opposition group, obtained 9.5 percent and 16 seats, he said.
The electoral body said on Monday that opposition parties acted in "bad faith" when they asked for a recount over "illegalities" in the voting process, and rejected their demand. Lourenco will be sworn in on Sept. 21.
Before it's here, it's on the Bloomberg Terminal.
LEARN MORE